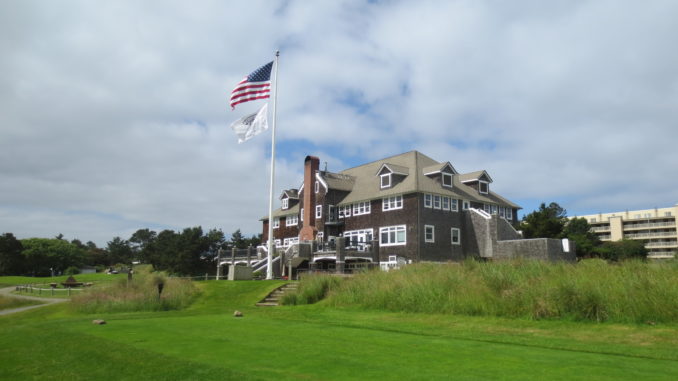 So as much as I enjoyed my 27 holes of golf at Mint Valley GC on Tuesday and how I stated it moved into my top five played, I played my absolute favourite course to date on Wednesday. That being Gearhart Golf Links on the Oregon coast (in Gearhart). Celebrating its 125 th anniversary this year, it is the oldest golf course west of the Mississippi and one of the oldest in the country. If you like links golf, you will enjoy Gearhart. The only (minor) drawback from my personal standpoint was that there are no views of the ocean. While the course is right beside the ocean, the view is blocked by condos and sand dunes. Nonetheless, the ocean wind effect is ever present and one must quickly learn how to adjust to play in it, or they are in for a very very long day!
Before I go on, a big shout out to Jason, the pro at Gearhart. Even though your fan loyalties are a bit skewed (Leafs suck by the way ;-)), your hospitality as a fellow Canuck was very much appreciated. Especially when I decided to play an additional 18! Thanks so much.
Old and Established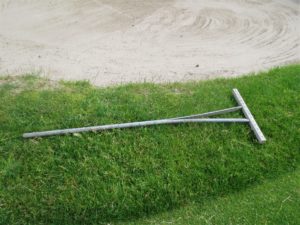 Now you don't need to know the age to acknowledge that this is an old and established course. The old school wooden rakes add to that feel for sure. And whether I just happened to be here at the right time, but everything was in pristine condition. Other than the fact that they are building a second hotel unit to expand and it does impact the first fairway to small extent. That is, if you slice or fade your tee shot (for a righty) you might end up in a hold bunch of sand. But luckily it is all GUR (Ground Under Repair) and a quick shoe wedge back to the fairway and you're all good.
Now speaking of sand, there are a pile of bunkers on this course. I'm not sure of the exact number, but green-side pot hole bunkers and long and numerous fairway traps abound. Let's just say it is a good thing I'm a pretty decent player from the traps, cause I was in a boat load of them! And if the bunkers don't get you then the fescue is likely to grab your ball. Fairways with lots of ups and downs, combining knolls and natural undulations from the dunes that the course was built over present another form of challenge. OH, and don't forget the wind. Ever present. Fantastic if you're downwind, but necessitates taking and additional 2, sometimes three or more extra club lengths that what you would normally use. I had to hid driver on a 170 yard par three!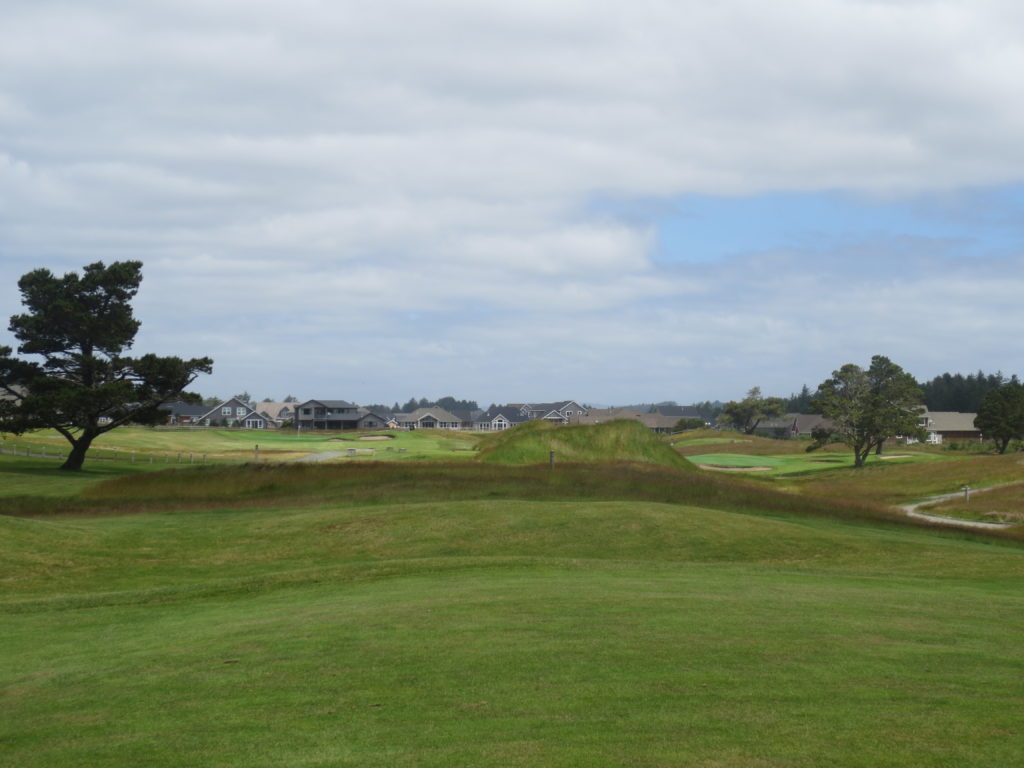 Yet oddly enough, with all the challenges the course presents, I played two pretty decent rounds. In fact for the second round, if it wasn't for a double-bogey on every par 5, I actually might have played my best round in about 30 years. I seriously considered playing a third round!
Seaside and Gearhart
As for the area, it is the coast after all. Sand, dunes, ocean, wind (of course) and seafood galore. What else needs to be said?! I stayed in Seaside, in some ways a tiny community that time forgot. Cedar shingle houses and hotels that date back to the forties or fifties. And a bit of a carnival feel down Broadway street.  Broadway is the main street (or City Center) that runs to the beach and also marks the end of the Lewis and Clark Trail. When you have indoor bumper cars and a Tilt-A-Whirl lining the street, I think that pretty well sums up a carnival like atmosphere. However, there are also some great restaurants, with numerous options ranging from high end fine dining, to burgers and LOTS of deep-fried options!
Gearhart, a smaller community just up the road a bit is mainly residential.  Save for Gearhart Golf Links and a second course, the Highlands, the town consists of some pretty high end housing overlooking the ocean.
But super friendly people, who actually live and work there as this is a real tourist destination. Mixed in with the old school motels lining Beach Drive is a 200+ unit Wyndham Timeshare resort anchoring Broadway Street at the beach. Seaside itself has a fantastic beach and I can understand why it is so popular.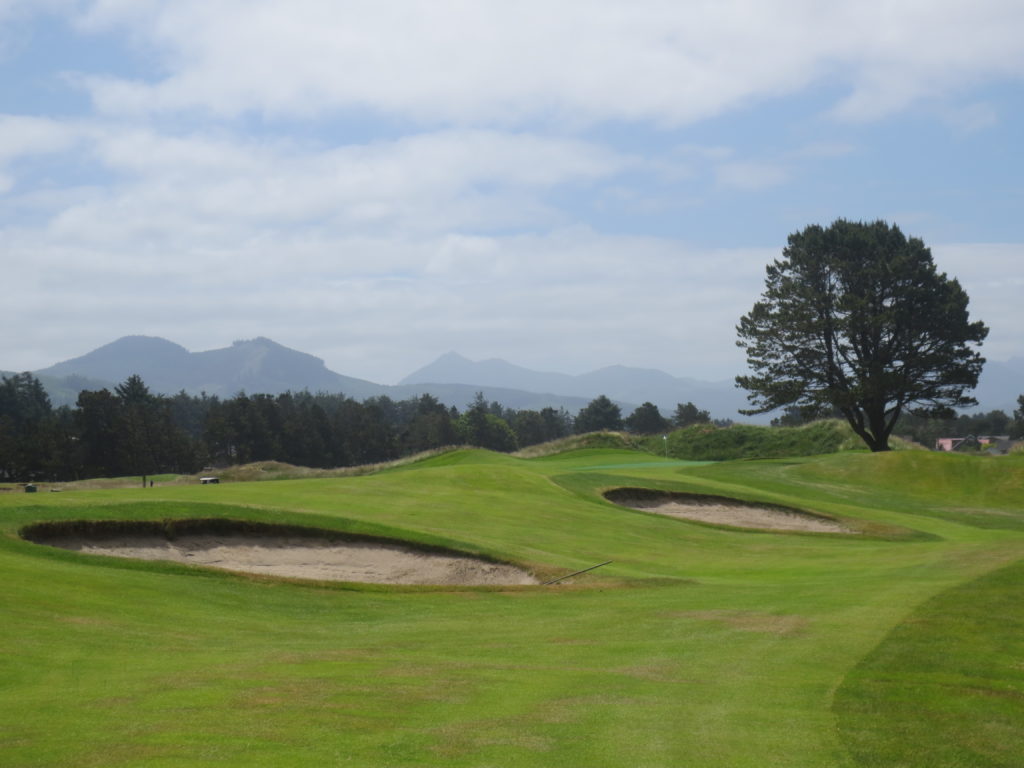 I took a morning off golf and headed south along the coast to Cannon Beach. I was looking for the postcard Oregon Coastline and I found it there. Spectacular rock formations and an absolutely stunning beach. It was a bit chilly when I dipped my toes in and I'm not sure how warm the water gets, but I would certainly have no problem spending a serious amount of time there. Maria and I plan on driving from Seattle down to California sometime in the future and I can hardly wait. Check back for a separate post and pictures.
So to sum this up, I cannot express enough how much I enjoyed playing this course. It will be tough to top my experience at Gearhart. But I'll keep trying!
More pics and a video..