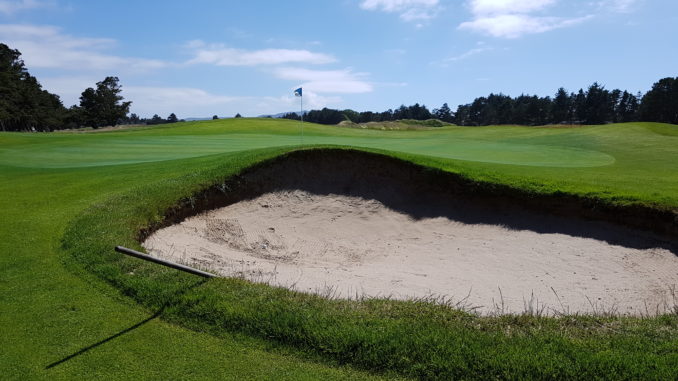 A co-worker asked me a few weeks back, prior to my trip to Alaska and the pacific northwest, what my favourite course to date had been.  And to be totally honest until I played Gearhart Golf Links in Oregon, I really didn't have a clear cut favourite.  But when he asked that question I provided my normal "qualified" answer.  I don't play top name golf courses like Kapalua or Pebble Beach etc. because I simply can't afford to.  My trips usually have a budget of some kind attached to them and I am pretty diligent at sticking to that budget.  Thus what I look for in a golf course is likely something different that what others may be looking for. If I have the opportunity ahead of time, I seek out a course that has something slightly different to offer than any other courses that are in the area.
Bottom line, a top-five golf course list from me is likely going to be significantly different that that of others, as my rankings are based more on overall experience, rather than simply the quality of the golf course itself.  That being said, it is long overdue that I updated my favourite's course list.  The last time I did it was in August of 2013 with "My top courses to date" post.
Top Five Golf Courses
Just to clarify, the following list is based on my overall experience which takes into account intangibles such as friendliness of staff, presence of course marshalls (which I think is extremely important on busy courses), cost of the round, pace of play etc.  I also take into account the setting and overall vistas or views from the course.   I then combine those with the measurable elements such as quality and condition of the course. For example, are the fairways lush and well manicured, do you have an opportunity to find your ball if you miss the fairway and most importantly, what are the condition of the greens.  Too many rough spots on greens does not make for a very pleasurable round.
So the following are my top 5 golf courses (in reverse order), based on the 65 different courses I have played over the 46 different states so far.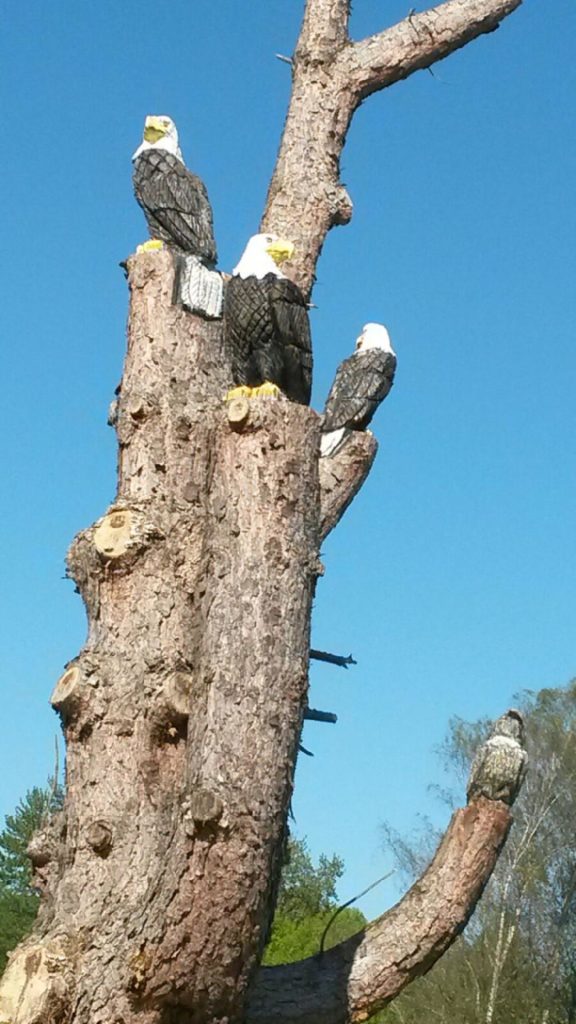 This course snuck into my top 5 from my most recent road trip.  In fact, I wrote an entire post about it; "In Mint Condition".  As I mentioned in that post, Mint Valley is a style of course that I typically avoid.  While I love playing golf and will play anywhere and in turn will enjoy my outing regardless, I much prefer a links style course over a parkland course. Especially one in the middle of a housing development. I remember distinctly driving into the parking lot and seeing all the houses around the course and thinking to myself "this is not going to go well."
However, the Mint Valley course layout was exceptional in my opinion, with enough dog legs, traps, water and other hazards to challenge both the long hitters as well as the average duffer like me. And the houses surrounding the course do not really play a factor at all.  That is, there is really no concern of hitting one with an errant tee shot.
But for me, the quality and condition of the greens were second to none that I have experienced and is probably the one key factor that brings this course into my top 5.  Fast and true with zero bare spots.
And with a discounted price tag of $25 including cart, how can you go wrong!
Course details:
| | | | | |
| --- | --- | --- | --- | --- |
| Tees | Yardage | Par | Slope | Rating |
| Blue | 6449 | 71 | M – 119, W – 128 | M – 70.4, W – 76 |
| White | 5895 | 71 | M – 114, W – 121 | M – 68.0, W – 73.3 |
| Gold | 5230 | 71 | M – 110, W – 114 | M – 64.9, W – 69.4 |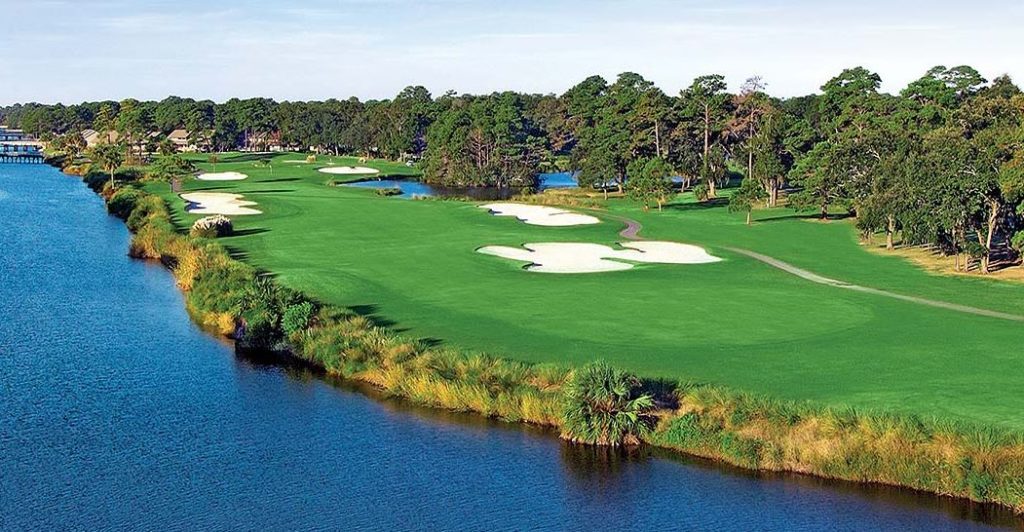 South Carolina golf at it's finest, the Fazio course at Palmetto Dunes offered me quite a challenge when I played it in February of 2014, but at the same time provided a wonderful experience. Once a Golf Digest's top 100 course, it is one to play for sure in Hilton Head.
For mid-February, the course was in great shape and I can only imagine what it would be like mid-summer or even later in the spring.  Stereotypical powdery, white sand bunkers, fabulous greens and a setting amongst beautiful homes, the course is very aesthetically pleasing.
The front nine is relatively wide open, but the back gets extremely tight and for me, I didn't take the driver out of the bag very often and started playing target golf instead.  Thus, I kept my score at a respectable level.
Course details:
| | | | | |
| --- | --- | --- | --- | --- |
| Tees | Yardage | Par | Slope | Rating |
| Gold | | 70 | M – 144 | M – 74.7 |
| Blue | | 70 | M – 139 | M – 73.0 |
| White | | 70 | M – 130, W – 136 | M – 70.8, W – 75.8 |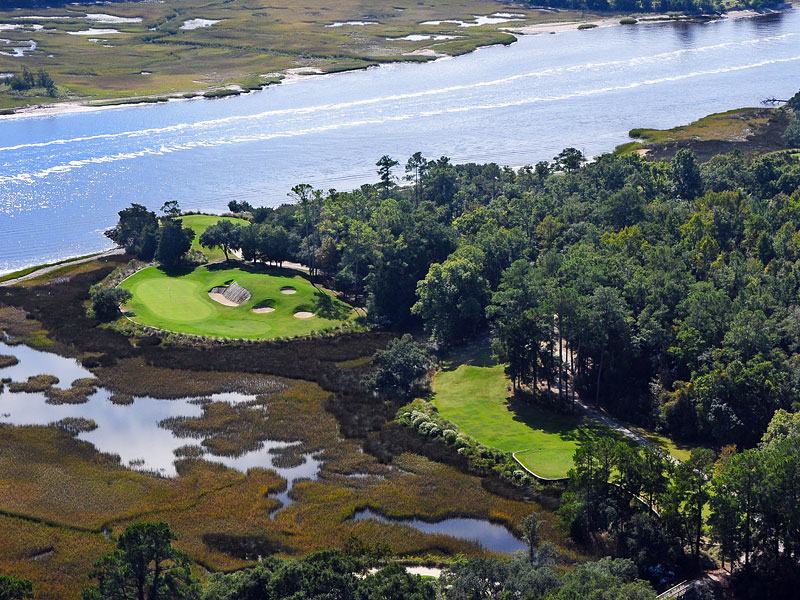 Despite being one of the very first courses I played in this five-year quest, it has withstood challenges from numerous others and remains as one of my favourite courses overall.
What sets this course apart is the stunning vistas along the intra-coastal waterway.  There are a couple of holes along the water that are absolutely stunning.  In particular, the part three 17th hole which ranks right up there with any hole I've ever played.  And then having a shared green for 9 and 18, outstanding!
Glen Dornoch is very much a "target" golf course.  You will need to leave the driver in the bag at times, forgetting about your urge to simply "bomb" the heck out of your tee shot.  Learn to do this and you will fair well.
Course details:
| | | | | |
| --- | --- | --- | --- | --- |
| Tees | Yardage | Par | Slope | Rating |
| Black | 6890 | 72 |  M – 146 | M – 73.2 |
| Blue | 6446 | 72 |  M – 137 | M – 71.5 |
| White | 6035 | 72 |  M – 70.2 | M – 127 |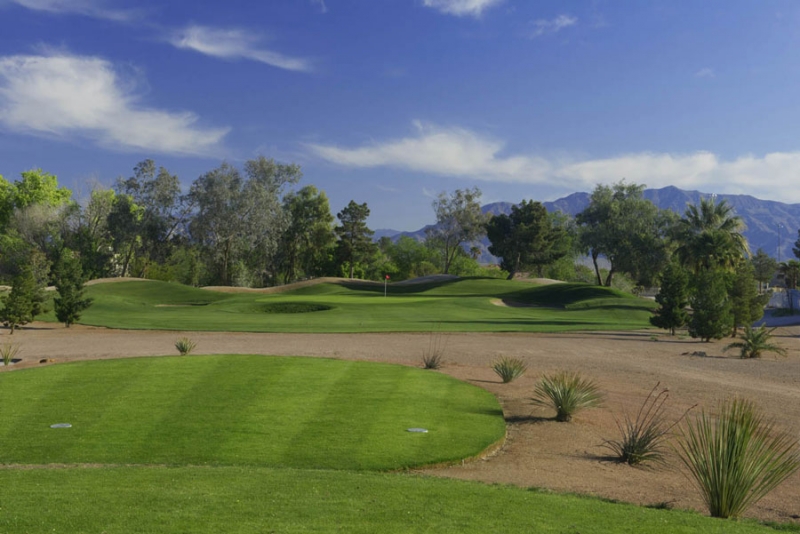 Palm trees, mesquite, lush rolling fairways with desert vegetation as rough, meticulous landscaping and fabulous greens make for a very solid golf course.  Mix that in with the vistas of the surrounding mountains, Red Rock Canyon and even the Las Vegas strip and you've got a fantastic setting for a golf course.
This is true desert golf and very challenging if you're not used to it.  Miss the fairway and you're playing from sand or native desert vegetation, which doesn't always bode well for your shot. The lush fairways are undulating but provide sizeable and fair landing areas.  Most fairways are guarded by mounds to try and keep balls within play from grass, though you will usually have an awkward stance from any mound.
My experience on the day was bolstered by my playing partner, a high stakes dealer at one of the top-end casinos on the strip.  He regaled me with fascinating celebrity stories, which added to the experience.  Despite having a below average score for my round, Painted Desert provided a fantastic experience.
My first desert golf experience was at Toana Vista, in West Wendover Nevada and it ranked in my initial top 5 course experiences.  But Painted Desert is a far superior course in terms of quality and challenge, which is why it now ranks number two overall for me.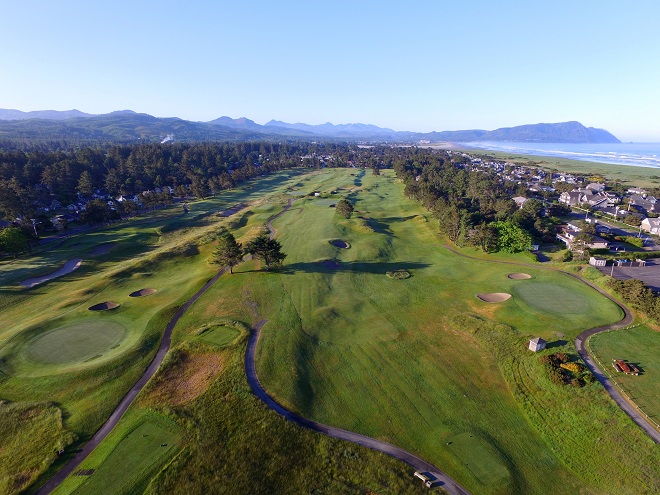 Not even close.  Favourite course by far (to date).  Quality of greens, outstanding.  Quality of course, outstanding. Location, setting, vistas, staff, facilities etc. were all fantastic.
This course was also captured in a recent post  entitled "A Clear Cut Favourite Emerges". I don't think I can add much more than what I stated in that post other that to state that if you're like me and look for value for dollar, then you can't go wrong playing this course.  The $90 (morning) green fee with cart is quite a bit more than what I normally pay to play a round but ultimately if you thoroughly enjoy yourself, it's worth it.  Besides, if you wait until late afternoon, the twilight rate at $50 ($65 with cart) is fairly reasonable, especially in late June when you are guaranteed to get in a full 18.
Course details:
| | | | | |
| --- | --- | --- | --- | --- |
| Tees | Yardage | Par | Slope | Rating |
| The Stones | 6501 | 72 | M – 136 | M – 72.0 |
| Black | 6176 | 72 | M – 131 | M – 70.5 |
| White | 5741 | 72 | M – 126, W – 131 | M – 68.5, W – 75.0 |
The next wave:
Beyond the top 5 I've noted, there are some other courses that stand out for me for various reasons.  Here are some honourable mentions just outside of the top 5 (in no particular order).
Frog Hollow GC, Middletown Delaware
I've played this course 4 times over multiple visits to Middletown and have enjoyed it each and every time.
Woodstone Meadows GC @ Massanutten Resort, McGaheysville Virginia
You wouldn't think that a par 65 course would rank on anyone's top rated list, but I absolutely love playing this course.  It's got a couple of fantastic holes.  If it was a regular par 72 course, it would likely be in my top 5 for sure.
Tyler Golf Club, Tyler Minnesota
Built in amongst the corn fields and heavily backed by the local farming community, this is a great course.  And super friendly staff helped make for a wonderful experience.
Prairie West Golf Club, Mandan North Dakota
A fabulous municipal-run golf course.  If it wasn't for the wind and cool temperatures, we probably would have enjoyed our experience there even more.
Oak Harbor Golf Club, Slidell Louisiana
Just ½ hour from downtown New Orleans and built among homes with access to the gulf from a series of canals, this course has a water hazard on almost every single hole.
Toana Vista Golf club, West Wendover Nevada
With a the Bonneville Salt Flats as a backdrop, this course was a great introduction to desert golf.