Unless otherwise noted, all itineraries originate near Ottawa, Ontario (Canada)
May 2017
Sat. May 17
depart Ottawa 6 a.m. EST, to Anchorage (through Vancouver)
Arrive Anchorage, 2:30 PM (UTC−08:00)
Tee off at Moose Run Golf Club (Creek Course) at 6:30 pm
golf 21 holes, finish at 9:45 pm.
Sun. May 18
am touring on HW1 down the Turnagain Arm
pm, 3:30 tee off at Moose Run GC, play 18 holes on Hills Course
evening, 7:30 tee off on the Creek course, play 18 holes finishing at 11:40 pm
play 4 extra holes (15/16/17/18) on the Hills Course to play past midnight.
Mon. May 19
am touring on Hw1 1 north of Anchorage
pm touring of downtown Anchorage
late pm check in at airport, midnight flight to Portland OR
Tues. May 20
arrive Portland OR 5:30 am (Pacific Time Zone)
pick up rental, drive to Longview Washington
11:00 am tee off, golf 31 holes at Mint Valley Golf Club
pm, drive to Seaside Oregon, check in to hotel
Wed. May 21
2 pm tee off at Gearhart Golf Links, Gearhart OR
play 36 holes
Thurs. May 22
am touring south on Oregon coast
late pm tee off at Highlands Golf Course, Gearhart OR
play 18 holes
Fri. May 23
drive to Portland airport
noon flight from Portland to Ottawa (through Calgary)
arrive Ottawa 1:15 am (Saturday 24)
September/October 2016
September 24 fly to Seattle, Washington – Overnight
September 25 fly to Maui, Hawaii
Condo at Honua Kai Resort & Spa for the week
Golf 18 holes at Maui Nui Golf club, Kihei on September 29
September 30, kids join us in Maui
October 1, fly to Big Island of Hawaii
House rental for the week
October 5 play 36 holes at Waikoloa Village Golf Club, Waikoloa
October 5, Luau at Marriot Resort
Vow renewal ceremony at Kukio Beach (rained out on October 4th)
October 7th outrigger canoe with Kawaihae Canoe Club
fly home on October 8/9
September/October 2015
Phase 1
Leave home September 23, drive overnight to Illinois
Play 18 holes at Dayton Ridge GC, Ottawa Illinois September 24
Continue drive to Iowa City, Iowa – overnight
Drive to Grinnell, IA
Golf 18 holes at Oakland Acres Golf Club, September 25
Continue drive to Sidney, NE – overnight
Drive to Sterling, CO
Golf 18 holes at Northeastern 18 Golf Course, September 26
Drive to Denver Airport – pick up Maria
End Golf phase 1 – spend 4.5 days site-seeing in Colorado with Maria
Drive to Albuquerque New Mexico to meet up with Pat/Brian, spend 1.5 days in Albuquerque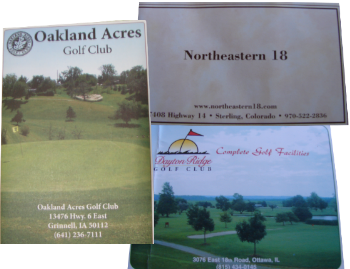 Phase 2
With Pat and Brian, we drive to Flagstaff, Arizona on Friday October 2
Spend a week at a timeshare resort in Flagstaff
golf multiple rounds at Continental Country Club (Flagstaff)
golf 9 holes at Oakcreek Country Club (Sedona)
Sightseeing
Leave Flagstaff on October 9, return to Albuquerque NM, overnight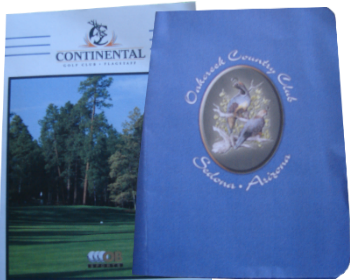 Phase 3
October 10, Drop Maria and Pat off at airport early a.m., drive North to Raton New Mexico
Golf 18 holes at Raton Country Club
Drive to Cheyenne, WY – overnight
October 11, drive to Broadus Montana
Golf 18 holes at Rolling Hills Golf Course
Drive to Dickinson, North Dakota– overnight
October 12 a.m., drive to Mandan, North Dakota
Golf 18 holes at Prairie West Golf Club
Drive to Brookings, South Dakota – overnight
October 13, golf 18 holes at Edgebrook Golf Course (Brookings)
Drive to Tyler, Minnesota
Golf 18 holes at Tyler Golf Club, p.m.
Drive to Mankato, Minnesota – overnight
October 14, drive to Viroqua, WI
Golf 18 holes at Viroqua Hills Golf Course
END GOLF
Drive to Battle Creek, MI – overnight
October 15, drive home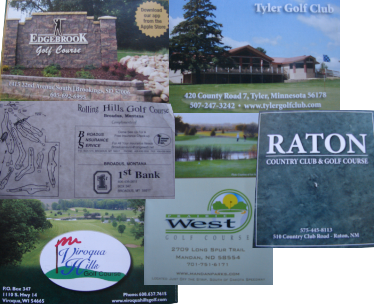 June 2014 – Maine, New Hampshire
Drive to Portsmouth, New Hampshire (overnight in Burlington VT on way)
Play 18 holes at Pease Golf Course, Portsmouth on June 28th
Play 18 holes at the Links of Outlook, Berwick Maine on June 30th
END GOLF – return home on July 1st
February 2014 – Florida, South Carolina
Drive to Orlando FL via Buffalo NY, Pittsburgh PA, Charlotte SC
Golf multiple rounds at Orange Lake Resort during week of February 16-23
Drive to Hilton Head, SC
Golf 18 holes Feb. 24 at Palmetto Dunes (Fazio Course)
END GOLF return home
November 2013 – Colorado, Kansas, Nebraska, New Mexico, Oklahoma, Texas
Fly to Denver, drive 2.5 hrs to Goodland, Kansas – hotel overnight (Nov. 1)

Drive 2 hrs to McCook, Nebraska play 18 holes at Heritage Hills Golf Club (Nov. 2 – am)
Drive back to Goodland, Kansas play 18 holes at Sugar Hills Golf Club (Nov. 2 – pm)
Overnight in Goodland
Drive .5 hrs to Burlington, Colorado play 18 holes at Prairie Pines Golf Club (Nov. 3)
Continue back to Denver – attend conference
From Westminster, Colorado – drive 4 hrs to Raton, New Mexico (after detour to Pikes Peak on way) play 9 holes at Raton County Club (Nov. 9)
overnight hotel in Raton
Drive 2.45 hrs to Dalhart, Texas play 18 holes at Dalhart Country Club (Nov. 10 – am)
Drive 1.25 hrs to Guymon, Oklahoma play 18 holes at Sunset Hills Golf Club (Nov. 10 – pm)
END GOLF
October 2013 – Pennsylvania and West Virginia
Drive to Greencastle, Pennsylvania and play 18 holes at Greencastle Golf Club (Oct. 19)

From Massanutten Resort, McHayesville, VA drive 1.25 hrs to Franklin, WV and play 18 holes at The Higlhands Golf Club (Oct. 25)
Multiple rounds at Massanutten Resort during week as well
END GOLF
August 2013 – Delaware and New Jersey
Drive to Middletown, Delaware
arrive 3:30 pm Thursday August 1st, play 9 holes at Frog Hollow Golf Club, Middletown
Friday am, drive to New Jersey, play 18 holes at Town & Country Golf Links, Woodstown, New Jersey
return to Middletown, Delaware, play 18 holes at Back Creek Golf club (twilight)
Saturday – pm, play 18 holes at Frog Hollow GC
END GOLF
Sunday – return drive home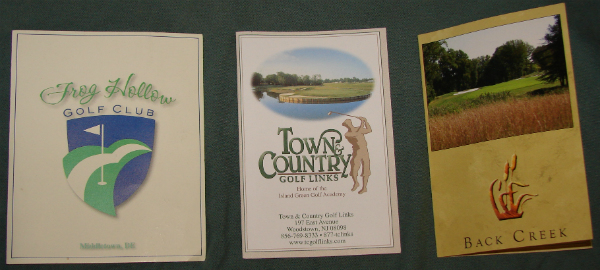 April 2013 – SC, GA, AL, MS, LA, TN, AR, MO, KY
 Drive to Hilton Head, spend week with wife/friends, playing 3 ½ rounds
Depart HH on Saturday night (after dropping wife off at Savannah/HH Airport) drive to Tallahassee, Florida
Play 36 holes in Thomasville, Georgia on Sunday – drive to Gulfport, Mississippi
(**had intended on playing in Florida in p.m., but major storm prevented it)
Play 18 holes in Pass Christian, MS Monday a.m.  – drive to Slidell, Louisiana
Play 18 holes in Slidell on Monday p.m.  – return to Gulfport
Tuesday a.m. – drive to Irvington, Alabama – play 36 holes – return to Gulfport
Drive to Memphis Tennessee on Wednesday a.m.  – play 18 holes in Memphis on Wed. p.m.
Drive to Marion Arkansas, play 18 holes Thursday a.m. – drive to Sikeston, Missouri
Play 18 holes in Sikeston Thursday p.m. – drive to Florence, Kentucky
Play 18 holes in Florence KY Friday a.m.
End golf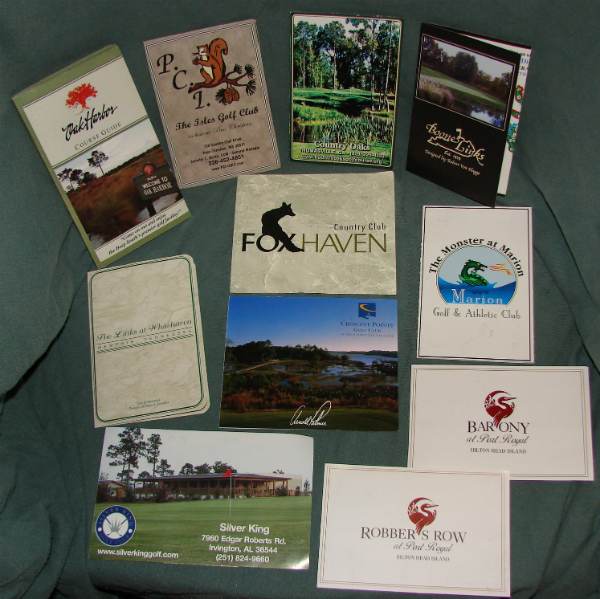 August 2012 – Utah, Nevada, Idaho, Wyoming
Fly to Salt Lake City, Utah
(arrive on a Saturday afternoon)
Play 18 holes at Stansbury Park, west of SLC
drive to Nevada, overnight at Casino/hotel (YAY)
Play 36 holes in Wendover, Nevada on Sunday
Drive back to SLC, overnight north of SLC
Monday am, early drive to Evanston WY
Play 18 holes in Evanston, Wyoming Monday a.m.
Noon – drive to Idaho
Play 18 holes in Fish Haven, Idaho Monday p.m.
Drive to Logan, Utah
Play 18 holes in Logan, Utah on Tuesday a.m.
End golf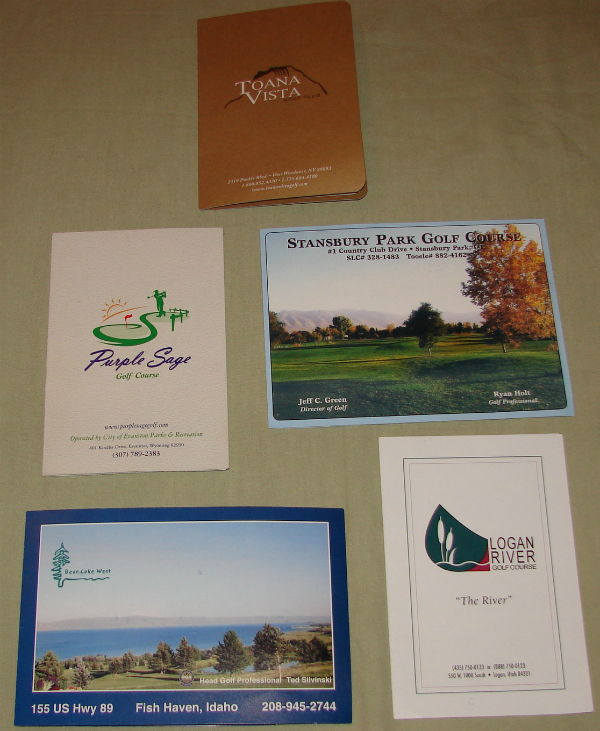 October 2012 – Virginia, Maryland
Drive to Hagerstown, Maryland, overnight hotel
Golf 18 holes in Hagerstown
Overnight hotel
Drive to McGaheysville, Virginia (Massanutten Resort)
Play 18 holes/day for 6 days at a resort
End golf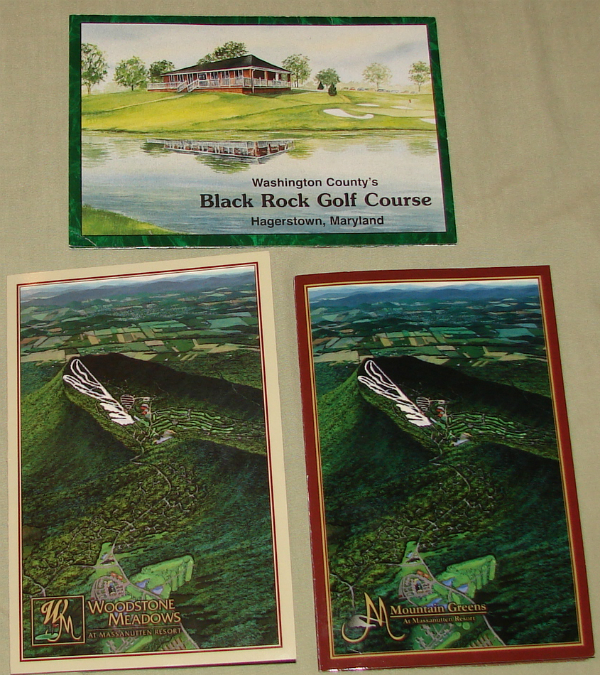 Feb. 2012 – Quest Officially Begins
Drive to North Myrtle Beach
6 days of golf, 36 holes/day
Play various courses in MB area, including one in North Carolina
End golf