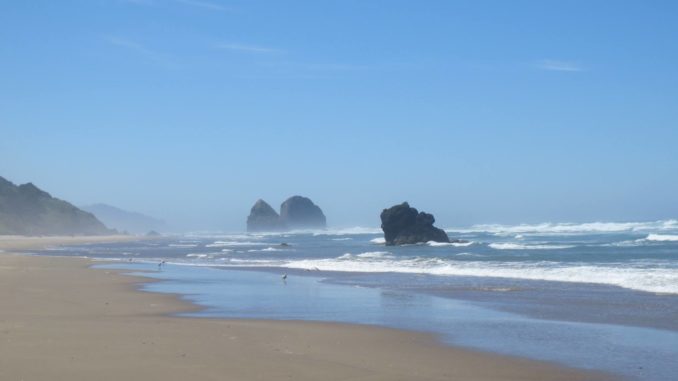 Preparing for my recent last-minute, three state road trip (well technically air and road), I had high expectations for
what my experience in Alaska would be like. And they were met, if not exceeded. But honestly I had zero expectations
and had done very little planning for Oregon. About the only thing I had in mind was that I would hopefully fall asleep
each night to the sounds of the waves crashing on the shore, as I booked a hotel overlooking a nice sandy beach on the
ocean.
As for Washington, I didn't really plan on staying in that state long, other than to play golf at a course just
over the border, about a half hour from the Portland airport. My one hope for it was to get a glimpse and hopefully a
picture of Mount St. Helen's from the course I had targeted to play. Due to excessive cloud cover, that did not happen.
As it turns out, Oregon may very well have become my favourite spot that I have visited. It has everything and thus,
something for everyone. Beautiful beaches, sand dunes, mountains, fishing, wineries, bike trails, hiking, history,
spectacular scenery and of course, outstanding golf!
When I made the decision to fly into Portland after Alaska, I started searching for hotels in the Portland area. Once I
discovered how expensive they were, I started expanding my search. When I found out that I could get an ocean front
efficiency unit for the same price as a non-descript, regular hotel room in the middle of the city, it was a no-brainer
decision for me.
Seaside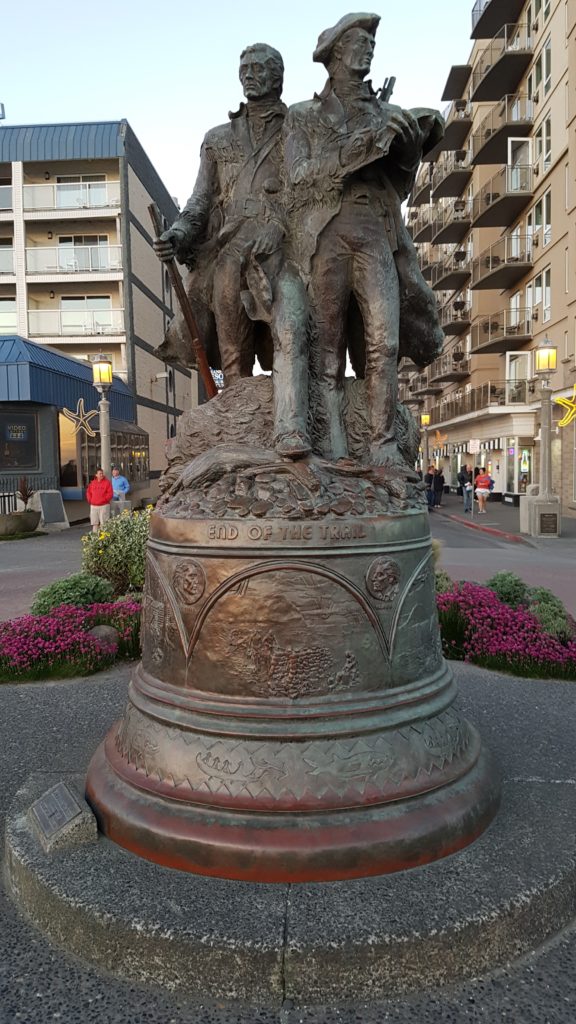 I ended up booking a room at a rustic hotel in Seaside, a town of approximately 6,500 full-time residents. I'm assuming that number rises substantially in the summer as it is a major tourist destination, a fact that I had no idea of when I booked my hotel there. Seaside is situated approximately two hours north west of the Portland airport and about 18 miles south of Astoria and the mouth of the Columbia River.
Seaside has a beautiful promenade that stretches for approximately a mile and a half, which is pretty much the entire length of the beach. On the southern stretch of this walkway, you will find grass covered dunes separating the promenade from the water. In the evenings you will find numerous groups of people huddled around bonfires, enjoying the breeze coming in off the ocean.
The city centre is anchored by Broadway Street, which ends at the Lewis and Clark monument at the beach. The area is a bit of a throwback to an innocent age, where a carousel, indoor bumper cars and a tilt-a-whirl ride, paired with a full-scale arcade create a somewhat carnival-like atmosphere. The street is also highlighted with numerous restaurants, the major cuisine focus being seafood of course. Mix in some ice cream shops, a couple of coffee and pastry shops, a few adult beverage establishments and of course the aquarium and you've got a really good mix to keep all ages entertained for an afternoon or evening!
On my first night, I enjoyed a fabulous meal at Norma's Seafood and Steak.  I had a craving for some clam chowder and Norma's came as a recommendation from the staff at the hotel I was staying at.  It did not disappoint!  While I will admit I've had better clam chowder in Boston, Norma's version was pretty darn good.  Add in a bucket of steamed clams and I was all set for the evening.  Aside from Norma's there are numerous other great restaurant choices, including a very popular sunset view from the restaurant at the Shilo Inn.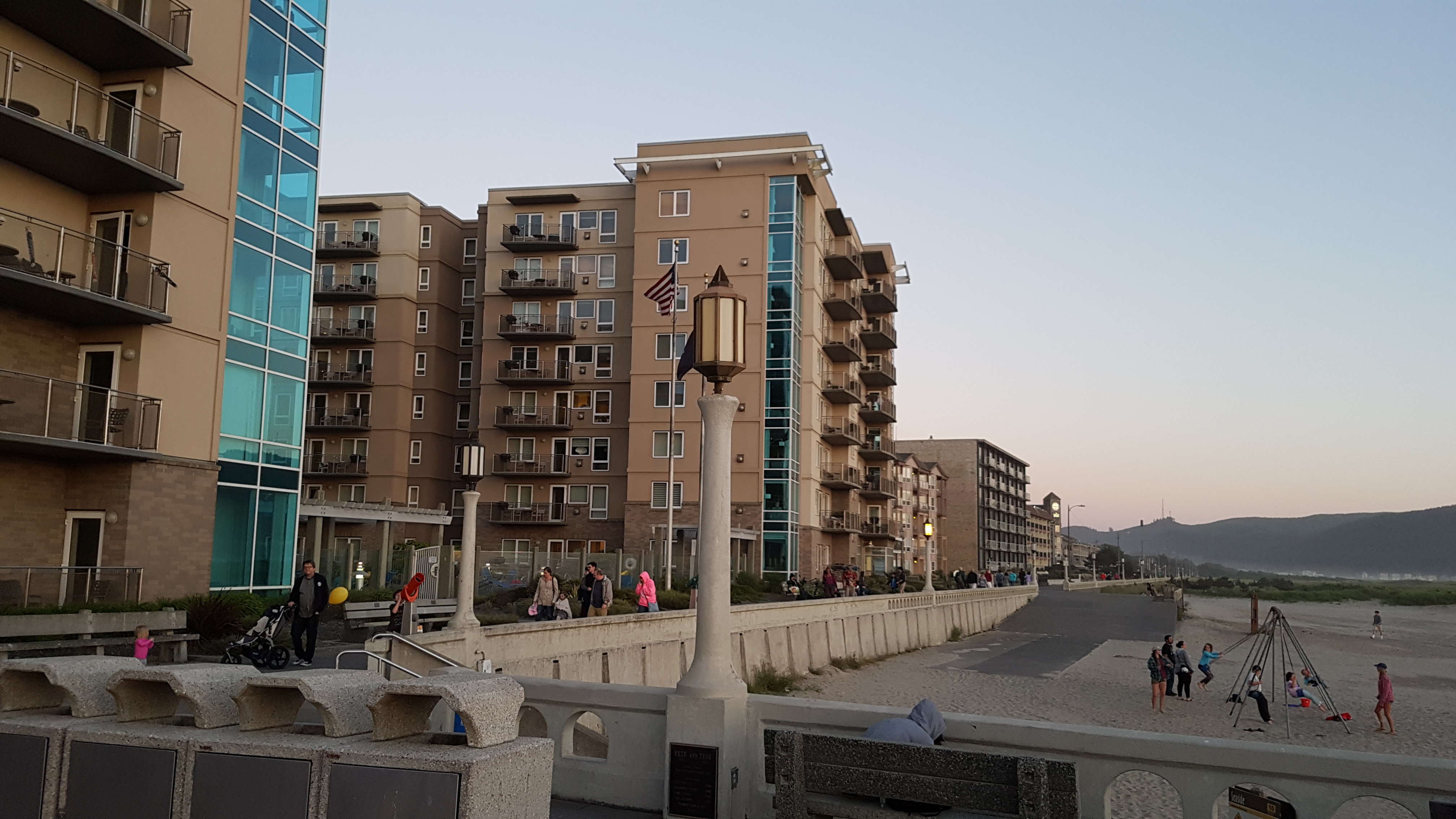 Cannon Beach
Now as much as I enjoyed my wonderful view of the beach and ocean from my hotel room balcony, it is about 15 miles south
of Seaside where I fell in love with Oregon. I took a morning off from golf on my next to last day of my trip and
decided to take a drive down the coast a bit. I ended up at Cannon Beach, entering through Tolavana Park. What a
spectacular beach! I envy the people who have houses built up on the bluff overlooking the beach. To sit on your deck
each evening and watch the sunset out over the Pacific, well quite simply must be heavenly!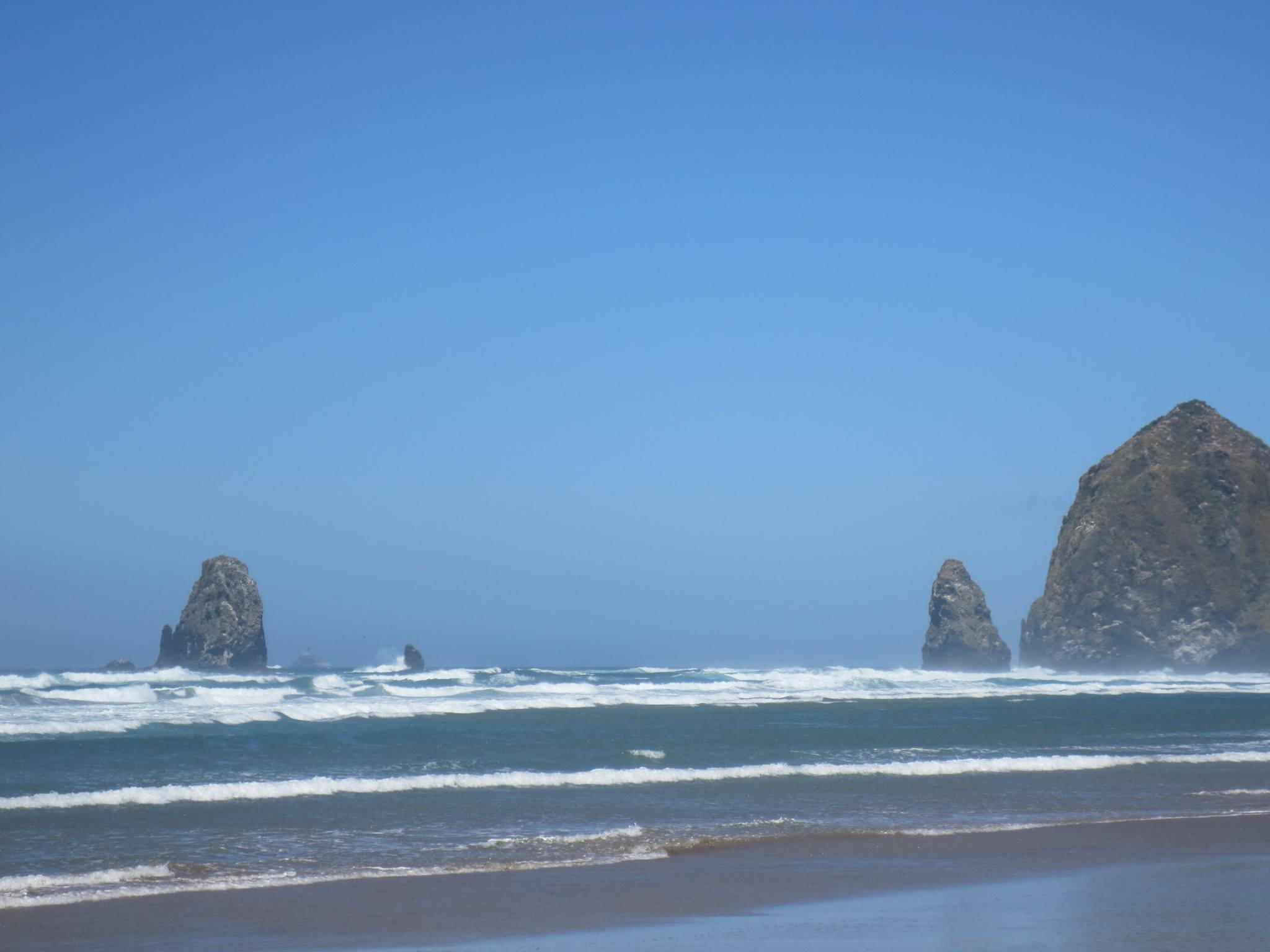 I strolled down the beach for about a mile and marveled at the large rock formations that seemed to randomly spring up
out of the ocean floor from nowhere. The wide sandy beach was very easy to walk on and totally free of debris, save for
the odd empty crab shell picked clean by gulls. After enjoying a bit of a rest, I turned back into the every present
wind and made my way back to the car. But there is approximately a five mile stretch of beach here that you can walk on,
stretching from Chapman point down to Hug point. I did dip my toes into the water a couple of times, but it was
extremely cold. I'm assuming it does warm up a bit more over the summer, even though I did witness a few brave souls in
front of my hotel on a couple of days. Bottom line, if you like the ocean as I do, you couldn't help but love the
coastline of Oregon.
Video of Cannon Beach
Here's a short video I took of my visit to Cannon Beach.  Let's just say it was a very windy day!
"I'll be back!"
As for the other parts of Oregon that I saw, it is spectacular as well. Beautiful streams running through the mountains,
lush forests, vineyards and then the ever present view of Mount Hood from the Portland area. I was only in the state for
three days and quite a bit of that time was spent on the golf course, but my short visit did give me enough of a taste
for a destination to head back to in the future. My recommendation…add it to your bucket list as well!