Here are the FORTY-SIX  states and courses I've played so far, as of March 31, 2017. The table indicates the name of the course(s) played for each state and the date(s) each round was played.
The remaining states to play (indicated by orange shading) are:
Michigan
Indiana
Ohio
New York
The map below also indicates the states played (dark shading) and a flag further indicates the approximate location of the course(s) played within each state.
You will note that I've played a couple of courses during different time-frames. I have an aunt that lives in Delaware and when we go to visit I usually try to fit in at least one round. We also like to vacation somewhere between Virginia and South Carolina every couple of years, so I note those rounds as well, even though in both cases I've already completed the relevant states.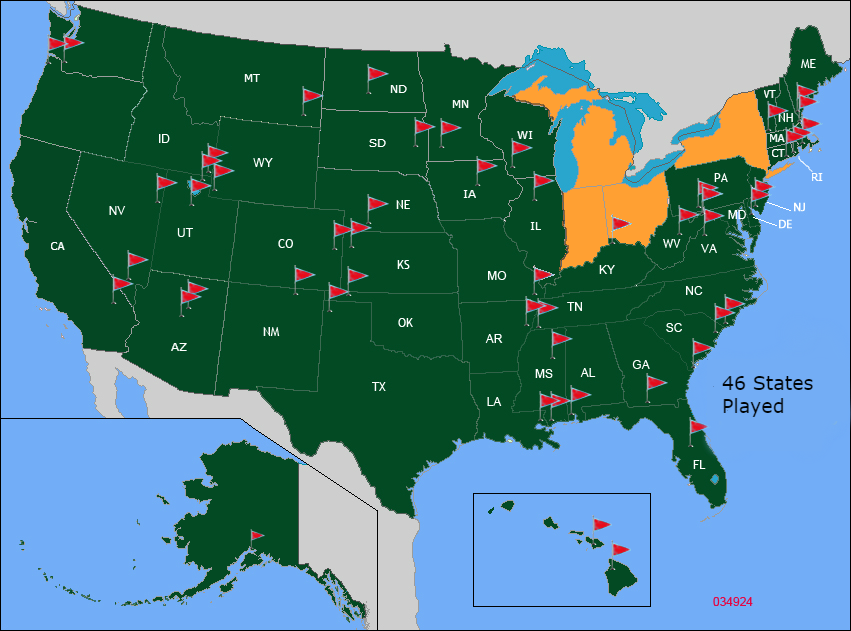 States and Courses
State
Course
Date(s)
Alabama
Silver King Golf Club – Irvington
April 16, 2013
Alaska
Moose Run Golf Course – Anchorage
(Creek Course and Hill Course)
 June 17/18, 2017
Arkansas
Marion Golf and Athletic Club (The Monster) – Marion
April 18, 2013
Arizona
Continental Country Club – Flagstaff
October 3/4/6, 2015
Oakcreek Country Club – Sedona
October 7, 2015
California
Primm Valley Golf Club – Nipton
February 18, 2015
Colorado
Northeastern 18 Golf Club – Sterling
September 24, 2015
Prairie Pines Golf Club – Burlington
November 3, 2013
Connecticut
Shennecosset Golf Course – Groton
August 12, 2015
Delaware
Frog Hollow Golf Club – Middletown
August 1/3, 2013
November 6, 2016
Back Creek Golf Club – Middletown
August 2, 2013
Florida
Orange Lake Resort – Orlando
February 18 – 23, 2014
Georgia
Country Oaks Golf Course – Thomasville
April 14, 2013
Hawaii
Maui Nui Golf Club – Kihei, Maui, Hawaii
September 30, 2016
Waikoloa Village Golf Club – Waikoloa Village, Big Island, Hawaii
October 5, 2016
Idaho
Bear Lake West Golf Course – Fish Haven
August 27, 2012
Illinois
Dayton Ridge Golf Club – Ottawa
September 22, 2015
Indiana
TBD
Iowa
Oakland Acres Golf Club – Grinnell
September 23, 2015
Kansas
Sugar Hills Golf Club – Goodland
November 2, 2013
Kentucky
Boone Links – Florence
April 19, 2013
Louisiana
Oak Harbor Golf Club – Slidell
April 15, 2013
Maine
The Links at Outlook – South Berwick
June 30, 2014
Maryland
Black Rock Golf Course – Hagerstown
October 20, 2012
Massachusetts
Hillside Country Club – Rehoboth
August 14, 2014
Michigan
TBD
Mississippi
Pass Christian Isles Golf Course – Pass Christian
April 15, 2013
Missouri
Fox Haven Country Club – Sikeston
April 18, 2013
Minnesota
Tyler Golf Club – Tyler
October 13, 2015 (p.m.)
Montana
Rolling Hills Golf Club – Broadus
October 11, 2015
Nebraska
Heritage Hills Golf Club – McCook
November 2, 2013
Nevada
Painted Desert Golf Club – Las Vegas
February 16, 2015
Toana Vista Golf Club -West Wendover
August 26, 2012
New Hampshire
Pease Golf Course – Portsmouth
June 28, 2014
May 23, 2015
New Jersey
Town and Country Golf Links – Woodstown
August 2nd, 2013
New Mexico
Raton Country Club – Raton
November 9th, 2013
October 10, 2015
New York
TBD
North Carolina
Meadowlands Golf Club – Calabash
February 28, 2012
North Dakota
Prairie West Golf Course – Mandan
October 12, 2015
OHIO
TBD
Oklahoma
Sunset Hills Golf Club – Guymon
November 10th, 2013
Oregon
Gearhart Golf Links – Gearhart
June 21, 2017
Highlands Golf Club – Gearhart
June 22, 2017
Pennsylvania
Greencastle Golf Club – Greencastle
October 19, 2013
Rhode Island
Fenner Hill Country Club – Hopkinton
August 14, 2014
South Carolina
Palmetto Dunes, Fazio – Hilton Head
February 24, 2014
Crescent Pointe Golf Course – Blufton
April 11, 12, 2013
Port Royal Plantation (Robber's Row) – Hilton Head
April 9, 2013
Port Royal Golf Club (Barony course) – Hilton Head
April 8, 2013
Heather Glen – Little River
February 28/28, 2012
March 2, 2012″
Glen Dornoch Waterway Links– Little River
March 1, 2012
Wicked Stick Golf Links – Myrtle Beach
February 27, 2012
Shaftsbury Glen Golf & Fish Club – Conway
February 26, 2012
Possom Trot Golf Club – North Myrtle Beach
February 25, 2012
South Dakota
Edgebrook Golf Course – Brookings
October 13, 2015 (a.m.)
Tennessee
The Links at Whitehaven – Memphis
April 17, 2013
Texas
Dalhart Country Club – Dalhart
November 10th, 2013
Utah
Logan River Golf Course – Logan
August 28, 2012
Stansbury Park Golf Course – Stansbury Park
August 25, 2012
Vermont
Stamford Valley Golf Course
August 15, 2014
Virginia
Woodstone Meadows at Massanutten – McGayesville
October 21/22/24/25, 2012
October 20/21/22/23/26, 2013
May 14/15/16/17/20, 2017
Mountain Greens at Massanutten – McGayesville
October 23/27, 2012
October 25, 2013
May 18/19, 2017
Washington
Mint Valley Golf Club – Longview
Jun 20, 2017
West Virginia
The Highlands Golf Course at Fisher Mountain – Franklin
October 24, 2013
Wisconsin
Viroqua Hills Golf Course – Viroqua
October 14, 2015
Wyoming
Purple Sage Golf Course – Evanston
August 27, 2012