Since officially beginning this quest in February, 2012 I have played in 18 different states on 29 different golf courses.  I figured it was about time to start rating some of the ones I've been on and share my opinions with you.  Now let me qualify by stating that my personal rating system is probably significantly different from those who are far better players than I and rate courses from a more professional viewpoint.  How I view a course is based on a combination of style, location, facilities, quality of greens, friendliness of staff, presence of course marshalls, pace of play, price and then overall general experience.
I consider myself an average golfer.  I haven't to this point gotten too hung up on the type of grass I'm playing on, though I'm now starting to notice things more than I ever did before.  I played a course on my southern swing that had some of the worst greens I have ever played on and I think simply a lot of it had to do with the type of grass they used. But bottom line, I don't consider myself qualified enough to speak about one type versus another.  I just play!
That being said, I have come to the conclusion during the last couple of months that I much prefer hitting out of fescue than I do off of pine needles.  Now you may be asking yourself why I say that, but the reality is that I have a hard time hitting the cut fairway these days!  Kidding aside, I truly do tend to gravitate towards links style courses a bit more.  I'm not sure why, but I find them more challenging but yet more rewarding at the same time.  When wind plays a key factor in most of your shots, it just adds that little extra element to make things more exciting!
So, the following are my top three courses to date.  Again, these are based on my personal opinion and are purely subjective.  I'm also going to add a "Next Wave" category as well as an "Honourable Mention" Category, making it a top 10 list overall.  Notwithstanding the course with the few bad greens, I can honestly say I haven't played on a "bad" course yet, at least not based on my ability.  There are a few I wouldn't play again, but the vast majority I would gladly replay any time!
1.  Glen Dornoch, Little River South Carolina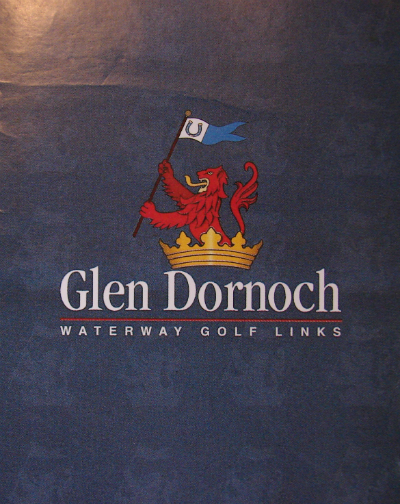 Built along the intracoastal waterway, this is a wonderful course that will challenge all skill levels.  There are a couple of really unique holes on this course, including 9 and 18 which share a very long and narrow green, finishing in front of the clubhouse along the waterway.  The finishing three holes on this course are probably among the most challenging finish the average golfer will find anywhere.  Tough, but picturesque at the same time.  The par 3 17th ranks as one of my favourite holes of all time.  Set against the backdrop of the intracoastal waterway, the green is essentially a peninsula that juts out into the tidal marshland adjacent to the waterway.  Regardless of which tee block you choose, you are forced to carry a portion of the marsh to a very deep and challenging green.  Short and right of the green are three pot bunkers built into a large mound.  A much larger "traditional" bunker flanks the remaining right portion of the green.  There is a relatively small "fairway" just short of the green, but do not miss long and/or left, as there is just a mere few yards between the edge of the green and a retaining wall that drops off into the marsh.
There are four sets of tees at Glen Dornoch and the recommendation on which set to play is based on your handicap.  This is nothing unique, but if you plan on playing here I highly recommend paying close attention to what is recommended.  The difference in yardage is significant.  For example, the par 3 17th was 164 for us (playing from the white tees) while the scratch golfers were playing it at 212 yards! If there was one negative comment I would have was that play was relatively slow compared to other courses.  I would assume that this coul partially be contributed to the difficulty of the course, combined with people trying to play from tee blocks above their level of play.  Bottom line, don't be a hero and leave your ego in the golf bag.  Play from where you're capable of playing and you'll still have an immensely challenging (but very enjoyable) round of golf.
2. Boone Links, Florence Kentucky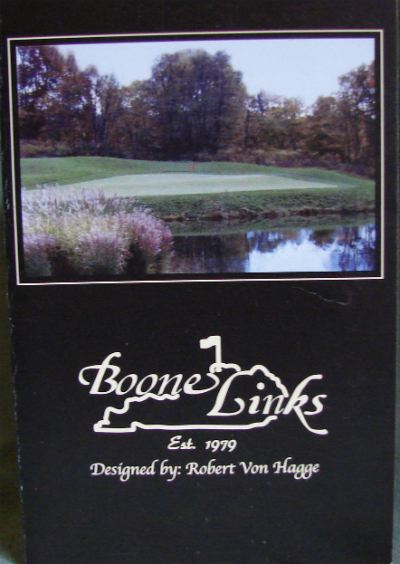 I will qualify this review by stating a bias I have.  As a youth, I used to vacation in Florence Kentucky visiting relatives that lived there.  Thus, the place has a soft spot in my heart and I was bound to enjoy my round of golf there, regardless of which course I chose to play at.  That being said, Boone Links is a fabulous golf course.
Boone Links (or Boone County Golf) consists of 3, nine hole layouts; Brookview, Lakeview and Ridgeview.  like many courses of the same ilk, your combination of the nine's you play is generally based on availability and the number of tee times booked.  I played the Ridgeview track for the front nine and the Brookview track for the back nine.  I will, at some point in time, return and play the Lakeview nine to complete the entire experience.
I found the front nine (Ridgeview) to be very challenging.  The rough was extremely long and thick and trying to hit a ball out of it was immensely difficult.  Perhaps the fact that it had rained heavily the day before I played intensified the difficulty level of the rough, but I personally struggled every time my errant tee shots found its way in to it.  And perhaps the other thing I struggled with on the front nine was that from a layout perspective, I found that having 3 par three's in the first five holes was odd.  However, each one was well laid out and challenging enough to keep the interest level up.
The first hole on the back nine (Brookview) was more of the same.  I hit a wonderful tee shot into the cut fairway, but it rolled off the fairway and into the first cut.  I drove the cart to the point where I thought my ball was and then spent a good 5 minutes just trying to locate it.  The ball was literally two feet off the cut fairway, but buried deep in rough.  However, I didn't find the remaining 8 holes on Brookview to be quite as challenging, which was a welcome relief by that time.  Or perhaps I just started playing better!
The rough aside, these were the best greens I had played during my spring southern trip.  They were very smooth and great character to each one. The first green on Brookview was perhaps the longest and narrowest green I've ever experienced.  It seemed to be about 40 yards long and if you don't hit to the pin, you are definitely facing three-putt squarely in the face.
The only downside to my round was that it was extremely cold the day I played.  Combine that with the heavy rains that had fallen the day before and I can honestly say it added at least 3 or 4 strokes to my game.  That being said, I was still happy with the overall outcome.  I look forward to playing it again some time.
 3. Toana Vista Golf Club, West Wendover Nevada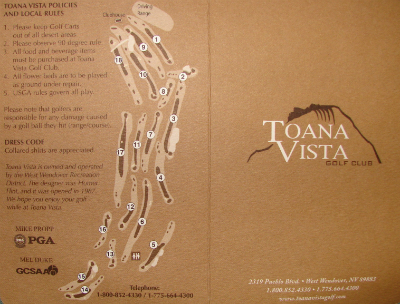 I will qualify by stating the main reason this course has made my top 3 is because it was my first experience with desert golf and I absolutely loved it.  I have no doubt, as I eventually head to Arizona and other more southern desert destinations, that I will stumble upon courses of better quality.  That being said, this course was pretty darn good!  The pro shop staff was very welcoming and accomodating (when I asked to play a second round), the clubhouse and lounge were nice and the fact that there were free balls on the driving range made the whole experience wonderful.
I was hoping to find a course that had green tees, fairways and greens and scrub in between.  And that's exactly what Toana Vista is.  If you don't hit the fairway, then you are playing off sand, pebbles or something worse!  I was extremely cautious when looking for my ball if I didn't hit the fairway.  Perhaps I was being a bit paranoid, but I did see one snake (though luckily I didn't hear a rattle!).  However, the majority of the time I was playing out of surprisingly lush fairways and found the greens to be far softer than what I would have expected.  Don't get me wrong, they were pretty fast nonetheless, but I was able to hold my ball on approach fairly well.
There are three sets of men's tees, White, Blue and Black.  So I opted to play the blues, a decent test at 6520 yards with a 71.8 rating and 128 slope.  While a number of holes run parallel to one another, you never feel threatened by wayward shots from other fairways.  The natural wasteland buffer between fairways tend to act as big catcher's gloves, simply squeezing the ball if it finds its way into them. The course sits up on a bit of a plateau, with a number of holes overlooking the casinos of Wendover and the Bonneville Salt Flats in the distance.  And with Goshute Peak (elevation 9614 ft) and the Goshute, Ruby and Humbolt mountain ranges as a backdrop, it was a wonderful experience and I highly recommend it for anyone heading west of Salt Lake City.
Next Wave:
It was a far greater chore than I first anticipated, narrowing my list down to a top three.  Honestly, my top three ended up being heavily weighted by the experience itself and having a good buddy along for the ride is a good reason Glen Dornoch came out on top.  But there are a number of courses that I strongly considered for the list as well and I honestly couldn't chose between any of them.  I enjoyed each one equally, thus I am going to group them all together as being my 4th favourite!
So here is the next group of my favourites and since I'm weighing them all as equal, I'll list them in reverse order of when I played them.
Frog Hollow Golf Club, Middletown Delaware
Marion Golf and Athletic Club, Marion Arkansas
Oak Harbour Golf Club, Slidell Louisiana
Purple Sage Golf Club, Evanston Wyoming
Wicked Stick Golf Club, Myrtle Beach South Carolina
 Honourable Mention:
Following closely after my "4th favourite" are my honourable mentions that will round out my top 10.
Back Creek Golf Club, Middletown Delaware
Heather Glen Golf Club,  Little River South Carolina
So there you have it, my rankings to date.  Of course as I continue this quest, some of these are bound to drop off the list.  But I will say this.  I am confident that if you were to play any of the courses on this list, you would pretty well be guaranteed of having an enjoyable round.