I've had a lot of luck on my side so far during this quest.  I've now played in 26 states, a few times playing 36 holes at the same course on the same day and only on three rounds have I experienced what I would say would be sub-par weather (pardon the pun).  And on only one of those, the recent venture into West Virginia, would I say that I really shouldn't have been playing.
So weather has played a big part, but so too has the cooperation of staff at various courses.  Most times I book a tee time in advance and just show up without any fanfare or acknowledgement of what I am doing.  I'm not looking for any special treatment, but I have asked for special consideration on a couple of occasions where I was trying to play two states in the same day and travel time had to be taken into consideration.  One was recently when I asked the staff at Heritage Hills in Nebraska if I could be the first off the tee, even though there were others who were scheduled to tee off before me and on the other occasion I simply asked if I could go out by myself, when they were going to pair me up.  Again, I simply spoke to what I was trying accomplish and there were no issues.
Finally, luck has been a part of my success so far as well.  Lucky that I haven't run into any significant delays, getting from one state to another, especially when I'm travelling quite a distance between courses.
That being said, my luck ran out this past Saturday.  Well sort of.  Call it self-inflicted stupidity on my part.  I left my hotel in Denver about 7:15 Saturday morning, about an hour later than I had intended.  I was heading to Raton, New Mexico to play but I did not book a tee time in advance.  I had a hotel booked though!  But a funny thing happened on the way.  I was absolutely awed by the site of Pikes Peak as I was driving and could see it in front of me, that I decided to take a detour.  It was only 22 miles off the main interstate and when I got to Colorado Springs I seemed to be well ahead of my target for arrival time in New Mexico.  So, I decided to detour, figuring I could spare an hour or two and so I followed the exit sign to the mountain.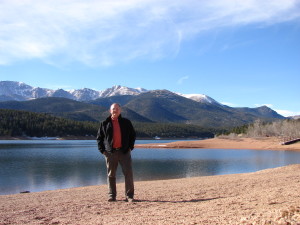 So here's the part I didn't realize.  After paying my $12 entry fee into the park I asked the ranger at what point I was in the journey.  "You're at mile one of a 19.5 mile trek" he stated.  Great, so I'm about 25 minutes from the top.  "Um, no…it will take you quite a bit longer to get to the top!".  "OH…I didn't realize you could drive right to the top" I replied. At that point in the conversation he stopped smiling and I'm pretty sure he started looking for my second head.  Honestly, I never envisioned that you could drive your car right up to the summit.  I simply assumed I was going to get to some observation point about 9 or 10,000 ft.  and that would be the end of it. The ranger then decided to talk to me again, satisfied that I did in fact only have the one head and stated "Sir, if there's one thing I have to stress is to stay in low gear all the way down the mountain."  "No problem" I assured him and off I went.
So let me paint this picture as quickly as I can.  I drive about 4 miles under relatively normal conditions.  The road is a bit of a winding affair, but not to be unexpected as I realize you can't simply drive straight up the side of a 14,000 ft. mountain.  After 6 miles, I stopped for some photo ops at this beautiful lake (actually a reservoir) with the snow-peaked mountain tops as a background.  Back on the road and within about another 2 miles I knew exactly what the ranger was referencing.  The road got substantially steeper and the number of hairpin turns increased dramatically.
By mile 14 I was starting to feel a bit queezy about driving all the way to the top.  Perhaps the altitude starting getting to my brain, at least the part that gives me the courage to just "go for it".  Somehow, I managed to continue but I can tell you that my knuckles were white from gripping the steering wheel at the ten and two position with so much force that I was about to lose all feeling.  So not only did the hairpins increase, but that coincided with guardrails disappearing (except at the hairpins) and I could easily see straight down off the side of the road to the valley thousands of feet below.  Thank goodness there were no oncoming cars, because I drove the wrong side of the road (on the inside part) most of the way the last four miles.
But in the end, it wall all worth it.  The views from the top were literally (and figuratively) breathtaking.  It took me over an hour to drive the 19.5 miles to the top.  Mind you, I took some time for a couple of photo ops on the way but mainly because you can only safely drive about 10 or 15 mph over the last 6 or 7 miles.  And after getting to the top, I spent another hour just marvelling at the sheer beauty of the surroundings. The trip down was much faster, once I got past the really scary parts.  And yes, the ranger would be proud because I kept it in low gear all the way.
So, all that to say that it was now 12:30 and I still had about an hour and a half drive to get to my destination.  I took about another 15 minutes for some more photos at the Red Rock Canyon Open Space at the bottom of the mountain and then off I headed.  In my mind, I would get there at 2:30 and still have time to play a full round of golf.
But then, stupidity reared its ugly head.
I saw the road sign for I-25 south and I turned where I THOUGHT I was supposed to turn.  After a three or four blocks I realized I was not on the right road, but knowing which direction I figured I could still get to the on-ramp.  Well I came to another major road that said 115 south.  O.K. , this must run parallel and I can cut over at some point.  Perhaps I was mesmerized by the guy with a full blown bar b q set up grilling chicken and other meats on the sidewalk at the intersection that I didn't quite think it through properly. After 20 miles, I stopped at the side of the road to ask two guys that had pulled into the driveway at a large ranch how I could cut across to I-25.  "Um…go back the 20 miles to Colorado Springs" was the initial response, as he too looked for my second head.  Then he added that I could continue on and eventually cut over, but I was currently heading in a south west direction, away from I-25.  Either way, I knew I was screwed.
Long story short, I had put myself about 40 miles out of my way.  I know, all you women are reading this right not and saying "just like a man not to ask directions!"
Bottom line, I get to Raton at 3:45 and quickly locate the travel information center to get directions to the course, a mere two minutes away.  I quickly ask what time it will get dark and both women replied about 4:30.  "No probs, I got this," I think to myself!
At this point, this is where my good luck ran out.  I arrived at the course, walked into the pro shop and the kind lady working there (I would later find out her name was Mercy) was just emptying the till, getting ready to close up shop for the day.  I quickly told her what I was attempting to do but she informed be that it would get dark right at 5pm (NOT 5:30) and I would be lucky to get 3 holes in.  I assured her I was a very fast player, but she repeated her stance and said it wouldn't be fair to charge me anything.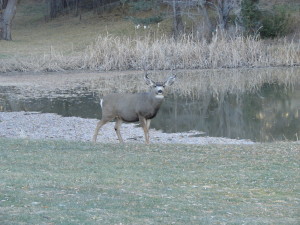 I continued to plead my case, stating it might be my only opportunity to play New Mexico.  Well her name proved to be so fitting as she agreed to let me on, charging
a mere $10 for a cart rental.  "But please, be back by 5pm at the latest.  I have to
get to church."  Seemed only fitting she would say that. The last thing she added
was "Don't worry about the deer, they'll move for you."  I glanced at the first tee
and there had to be 20 deer grazing, lying down and/or just standing around
staring at me.
By the time I got my shoes on, bag and camera loaded on the cart it was 4:05.  I teed off and hit my ball straight down the fairway into a flock of turkey vultures who had also decided to make the first fairway their home.  Fearing that they were after my brain dead, second head, I gave a good yell and they quickly got out of the way.
I finished the 9 holes in a blazing 42 minutes.  Mind you, on two occasions I hit my drive down the middle of the fairway but with the setting sun in my eyes coupled with the fallen leaves, I couldn't find them right away, so I simply dropped another ball where I thought my tee shot should be, simply to speed up the round.
Overall, the Raton Golf and Country Club is nothing special.  It is a nine hole track that is not overly challenging and I would likely choose something different if doing this quest again.  But I've certainly played worse courses and undoubtedly it serves as a viable option for anyone who wants to play golf in an otherwise barren landscape. And with friendly and welcoming staff, it was still worth it, albeit I only got to play 9 holes.
Regardless, I am forever grateful that on the day that stupidity took over my brain cells and apparently grew me a second head, that I was shown some "Mercy".  I was able to add New Mexico to my "played" list.