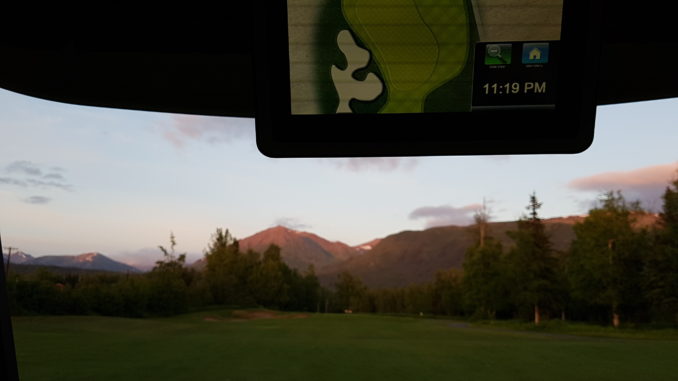 "I'm going to wait til the midnight hour"
"When there's no-one else around"
Those two lines from the Wilson Pickett hit were so fitting for my experience on the golf course yesterday. Now the song is obviously about the love of a woman, but with the greatest love and devotion to my wife, in her absence the golf course is my next love.
And so it was last night as I finished my second round of golf for the day at 11:30 and turned in my power cart, I found myself with the question of whether or not I would wait to meet my pre-trip goal. I wanted to be playing at midnight. After a very brief period of indecision, figuring that 36 holes in one day and playing until 11:30 at night might be good enough, I committed myself to playing a few more. And with the assistance of a couple of course marshals at Moose Run Golf course, I was able to achieve my goal. A big thanks Bruce for making those arrangements on my behalf. Actually, a huge thank you to all of the staff at Moose Run who made my experience there over 2 days, extremely enjoyable.
And a big shout out to Darren and his son Tyler, who provided me with great company for a very enjoyable round in the late afternoon. Keep hitting them long!
So in the midnight hour, I went bogey, par, par, bogey on the last four holes of the front nine on the Hills course. It was a bit of a guessing game trying to figure out exactly where the greens were and more specifically the hole locations, as the flags had been removed for the night. Especially challenging was hole # 6 which is a blind shot up a hill to the green. But luckily I had remembered from the round earlier in the day and obviously faired out o.k. And literally, there was no-one else around, save for the one night supervisor.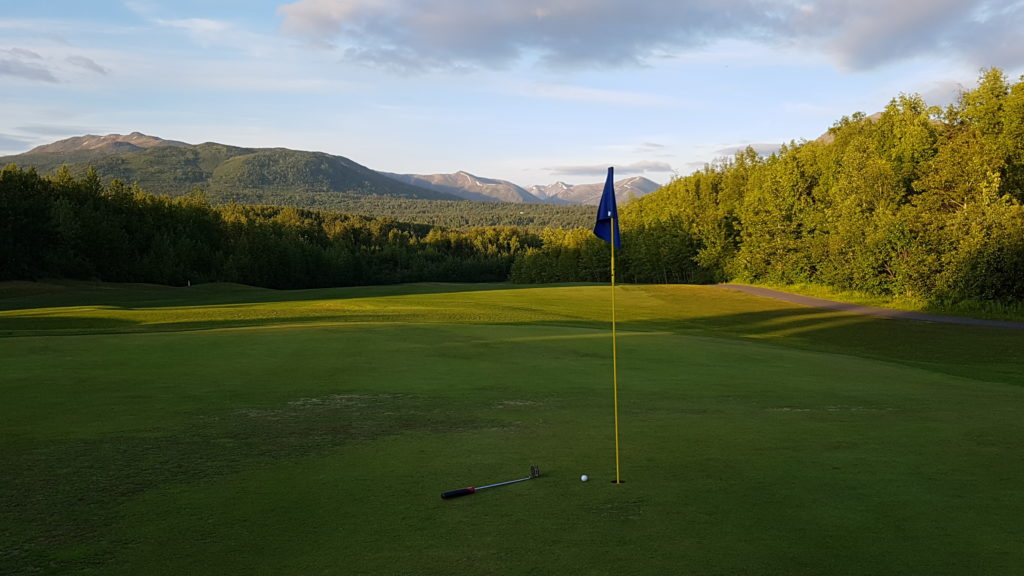 I have thoroughly enjoyed my short stint here in Anchorage. I managed to squeeze in a bit of sight-seeing yesterday morning before heading to the course and added a little bit more today before heading to the airport. Frankly, I packed quite a bit into 48 hours, the time period from when I arrived to when I returned my rental car. 3 full rounds of golf, plus 4 additional holes. Well let's round it up to an even 60 as truthfully I played a couple of holes more than once on my 2nd 18 yesterday, waiting for the slow group ahead of me. Sight-seeing yesterday morning and then about another 3 today. Mix in writing, editing pictures and videos etc. etc. and I am ready for a rest.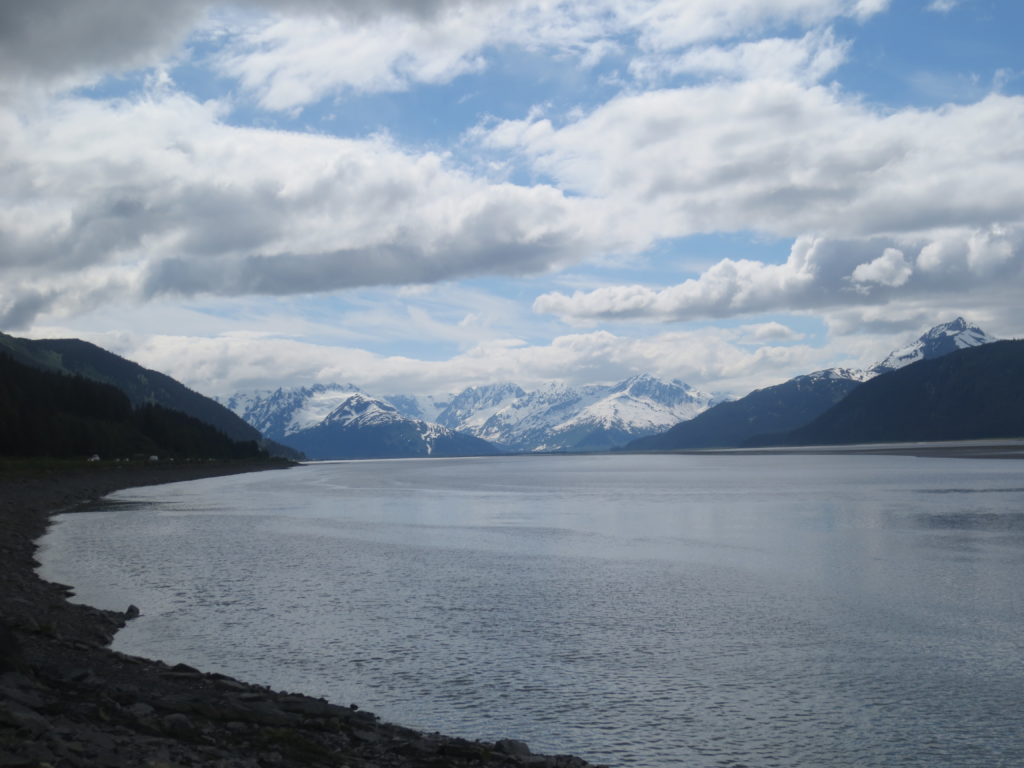 One of the pro shop staff asked me yesterday what my favourite state has been so far. Well I had to be honest. You simply can't beat Hawaii. But Alaska in the summer is definitely an experience everyone should come and enjoy. Anchorage itself is relatively non-descript. But you can't beat the scenery just outside of the city and you certainly can't beat the friendliness of people. At least not the one's that I encounterd, whether it be the cashier at Walgreen's, the attendant at the gas station, the waitress at the great BBQ place I ate at for lunch today and of course the wonderful staff at the golf course. Maria and I have already discussed doing a full trip up here. Maybe combining it with a cruise. I definitely want to see more of the state, now that I've had a small taste of it. I'll just leave the clubs at home next time.
If I have one disappointment, I didn't see much wildlife. Aside from the goats/sheep in the hillside, the rabbits and the squirrels on the golf course didn't quite meet my expectations. No bear or moose sightings, though abundant everywhere. Especially on the golf course. Off to Oregon next, where apparently there are elk that like to roam on the courses I'm targeting. Fingers crossed!
But a final word on Alaska. Do yourself a favour folks, get on up here!


Late evening view of the intersection of 6 holes on the Creek Course, Moose Run Golf Club, Anchorage AK

Be the first to comment