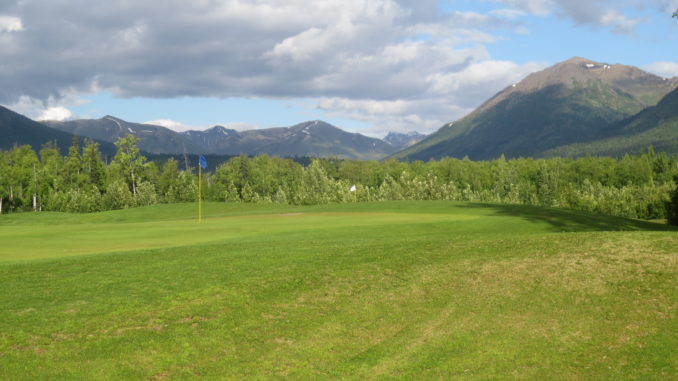 Well its official. Alaska can be added to the played list.
At 3:30 a.m. yesterday (June 17th) I left home and headed to the airport. After a 3.5 hour layover in Vancouver, I arrived in Anchorage at 2:40 pm (6:40 EST). After grabbing the rental car and some water and a few supplies from the local Walgreen's, I checked into my hotel. I relaxed for a couple of hours, then headed off to the golf course about 15 minutes from the hotel.
At 6:30 pm I was meeting up with the starter at the Creek Course at Moose Run Golf Club. We had a great chat and I explained my quest, then proceeded to ask him what I should expect for my first visit to Alaska. "Well, the bears are a definite added hazard on the course" was his response. Really…..
I will admit I was a bit disappointed having not seen any during my round. Better luck tonight maybe, as I plan on returning to play some late evening golf once again. I cannot express how much joy I felt in playing golf under fantastic sunlight at 9:30 last night! If I had a bit more energy, I would have played another 9 for sure. But the very long travel day, lack of sleep and the challenge of a very tough golf course got the better of me.
More stories and pics to follow, but here's a short clip of my experience from last night. Enjoy!