Monday morning (June 30) I woke up early and drove ½ hour from our hotel in Portsmouth to the Links at Outlook in Berwick, Maine.  I will be honest and say that I had originally targeted playing at the Ledges golf course in York as my choice for Maine, but unfortunately with available tee times and commitments to other planned activity that Maria and I had, the timing just wasn't' going to work out.
It was a very pleasant drive from Portsmouth up to Berwick, passing through a couple of small towns that I have no doubt in stating they must have been an inspiration for some of Norman Rockwell's paintings.  Again, I have to thank Google Maps for the step by step instructions that make finding new destinations so much simpler. I'm pretty sure I've stated it in a previous post, but I am not a fan of GPS systems for finding my way.  I like looking the big picture and getting a sense of the entire geographical area, not simply what is 200 yards (or metres) down the road.  And honestly, I actually don't mind making a wrong turn every now and then.  I find you discover a whole new world when you do that.
But getting back to the course, I arrived at the Links at Outlook a bit ahead of my scheduled tee time so the starter paired me up with a couple of really nice guys, ***, a retired gentleman from Richmond Virginia who has a summer home in York and his son-in law, Dustin.   They had played Outlook before, so once again it was nice to have some local knowledge to guide me around the course.  I've stated a couple of times in previous posts that I much prefer a links style course, with open fairways and few trees.  I just seem to relax and play better and that was so true in this case.  I only had one truly bad shot on the front nine and simply played within my ability.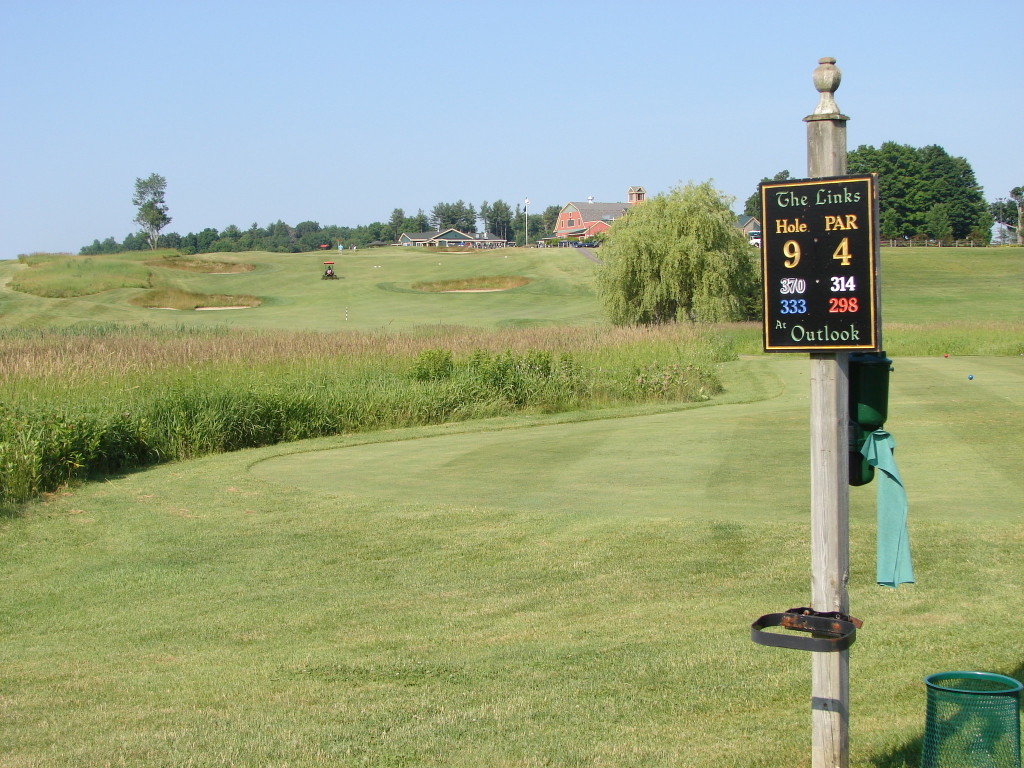 So here's the thing about the Links at Outlook.  As I said, the front nine is a great links course, with rolling fairways, mounds that present blind shots, putt-able fairways around the greens and knee high grassy rough that simply swallows errant shots (forget about finding your ball).  Unfortunately, with the exception of the 18th hole, the back nine is nothing like the front nine.  If it wasn't for that fact, this would have ranked as one of my favourite courses to date.  Don't get me wrong, this is a really nice course and I would highly recommend it to anyone, I just wish the entire course was the same style.  Without knowing the history, my guess is that the back nine, which is on the opposite side of the road that the course is on, with its tree lined, narrow fairways and steep elevation changes, was added after the original front nine was built.  Just a guess on my part, but it sure seems that way.
I shot lights out (relative to my abilities) on the front and then once again began to crap the bed on the back nine, starting out triple, double once I found out it was a different style than the front.  But I was able to pull my round together and limit the damage of the first couple of holes, simply by making sure to keep my ball in play at all times and once again reminding myself to play within my own limits.  In the end, I was extremely pleased with my round and thoroughly enjoyed the company I had to share it with.
What's ironic is that during the evening prior to this round, I had gone into Dick's sporting goods and tried out a couple of sets of graphite irons, thoroughly convinced that the lighter, more flexible shafts would help my aging body meet the physical challenges of repetitive motion.  And while I won't be joining the Senior tour any time soon, it was nice to know I was still capable of a decent round with my "old" set of clubs.
The only downside to playing Outlook was the price tag.  At $67 with cart, it is the most I've paid for a round of golf during my quest so far.  I realize that you generally pay more for better courses and I would definitely put this course in the "better" category.  And I also realize that in today's standards of green fees, $67 is a downright bargain compared to some courses. That being said, I have paid far less to play on a few courses that I would rank a notch or two above The Links at Outlook.  All in all however, I would highly recommend this course.