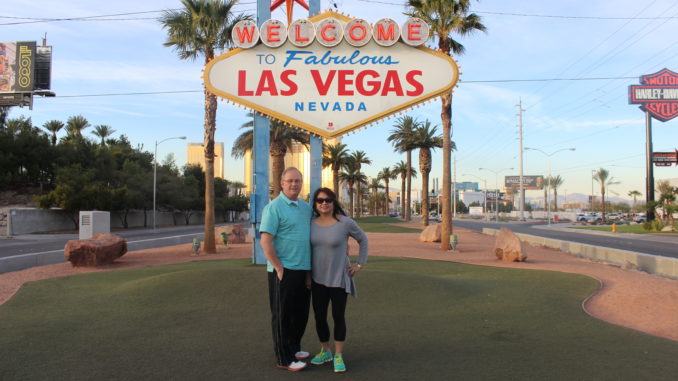 I'm here in Vegas helping my daughter celebrate her 21st birthday, taking a much needed vacation for both myself and Maria and of course, getting in a bit of golf.
We arrived very late Saturday night, then wasted well over an hour at the airport trying to sort out our rental car issues.  Seems the company that sent me a confirmation email the very day for the vehicle I had booked, forgot to actually keep it on the lot.  Of course, I was more than willing to take an upgrade yet was told they were completely sold out.  Now, they were able to arrange with a rival company to give me an equivalent vehicle at the same rate, but after wasting so much time at the airport at 1:30 in the morning, I really think they could have done more.  Needless to say, I don't think I'll be renting from rental company "B" again for awhile.
But aside from that misfortune, the rest of our visit so far has been great.  Sunday we slept in, then took Spenser up onto the strip and gave her a taste of "gambling".  Of course, there are those who would say that playing the penny slots is not really gambling, but she felt the stress and tension none the same.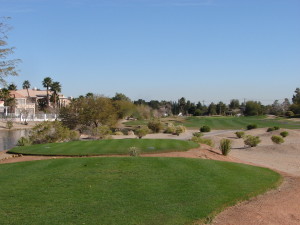 Yesterday, we got up early and did a road trip out to the Hoover Dam.  We just did the "free" tour on our own.  It truly is a marvel that you have to see up close.  Maria and I had flown over the dam on a Helicopter tour of the Grand Canyon a few years ago, but nothing beats walking across the structure itself.  After about an hour and a half of wandering around, we headed back to our timeshare unit just off the strip.  After a very quick bite to eat and an even  quicker review of directions  on Google Maps, we jumped back in the Nissan Extera.  I dropped Maria and Spenser off to do some shopping and then I was on my way for my first round of golf of 2015, first round of golf in year four of my quest and almost as significantly, my first round of golf in 6 months!
I want to give a big shout out to Brady at BK's Golf Services (LasVegas Teetimes) for hooking me up with a very enjoyable round at the Painted Desert Golf Course.  I had checked with the Concierge at our resort, inquiring about tee times and he simply handed me a card and said, "call this guy".  When I got in touch with Brady, I had already been researching various courses and had one in mind that was relatively close to our unit and was in the price range I was looking to pay (for my first round of the year).  Yet  Brady suggested I might enjoy Painted Desert, which was in the same price range.  Yes, a bit further away, but a significant upgrade in quality of course, in his opinion.  Turns out, he was bang on.
Painted Desert is located in the northwest section of Las Vegas, about 18 miles from the MGM Grand (on the strip), but well worth the 25 minute drive.  It is the stereotypical desert course that you see when watching pro tournament on TV.  Lush green tee blocks, cut fairways and greens.  Brown desert wasteland in between.  But a few well placed water hazards gave it the ambiance of a parkland course as well.  I thoroughly enjoyed the course and will likely rank it in my top 10 of the courses I'v enjoyed the most.
Now, if I had one complaint about the course, it would be the lack of protection as you are coming up the 9th fairway.  The practice range is located between the 9th hole and the 18th hole,   However, with the 9th fairway to the right side of the practice range tee blocks, there are just far too many errant shots that end up on the 9th fairway.  I'd love to see them add some netting to help keep some of the yellow range balls off the actual course!
That being said, the overall experience was also enhanced by the playing partner I got paired up with. Joe was a little bit older than me and a much better ball striker than I, but a really friendly chap who just happened to be a high limit blackjack dealer at one of the major casinos on the strip.  I was regaled with  stories of Vegas life from someone who's lived the highs and lows of the "real" Las Vegas for the last few decades.  Hearing the other side of the story took my appreciation for those who make it all happen for those of us who come here to "play" to another level.  Having worked in the service industry myself for almost two decades, I already respect anyone who is willing to roll up their shirt sleeves just to make ends meet, but Joe's stories let me in on a side of Vegas that most of us would simply take for granted.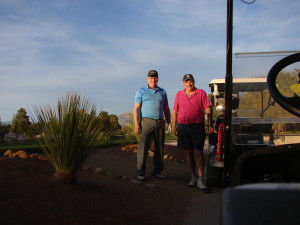 As for my game, well lets remember that I hadn't played in 6 moths and leave it at that. LOL.  Actually, once I got warmed up and played within my ability, the back nine wasn't too bad!   I even managed to par a couple of holes!
Tomorrow is my birthday and I'm heading to Primm Valley Golf Club just over the border in California.  It is a 36 hole, Tom Fazio design that I'm really looking forward to playing.  Once again, thanks to Brady at BK's Golf Services for setting that up!
Now a slight change of plans. I had originally intended to play in Arizona while I'm here as well, but after looking at various options I've decided I really don't fell like driving 2 hours each way just to play a round of golf.  Maria and I have decided to head to Sedona in the fall, so I'll just hold off until then.