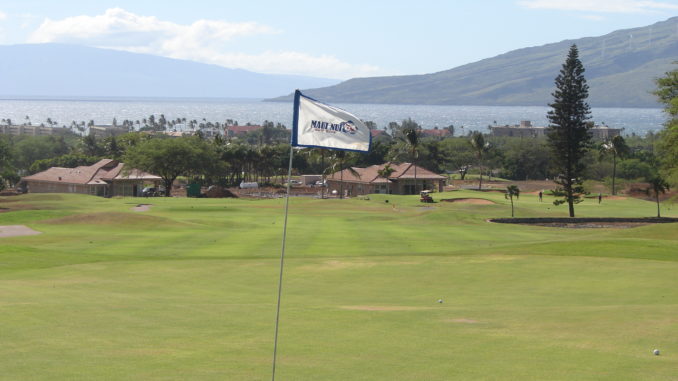 As much as I am against golfing a big name course just for the sake of saying you've done it, particularly when you're a "duffer" like me, I must admit I really would have liked to have played the plantation course at Kapalua, on the island of Maui. The course was only about 15 minutes from the condo that Maria and I had rented, so we took a drive up one day to check it out. Home to an annual PGA event, the vistas are absolutely breathtaking. But at $400+ U.S. for a round (including club rental), I simply could not justify it. Not this time anyway!
But on the bright side, I got to enjoy three wonderful rounds of golf while in Hawaii; one while on Maui and then I played 36 holes one day at a course on the island of Hawaii. I had made the decision not to bring my own clubs. I pondered for some time over that decision, but calculated that the baggage fees alone for bringing my own clubs, would outweigh the cost of rentals. If we were flying direct with a return booking, then it would have been fine. But with a scheduled stopover for a night in Seattle, we actually had to book four separate flight legs, on three separate airlines. That would have added up to about $140 in baggage fees for the clubs, let alone the hassle of dragging a hard cover travel carrier around everywhere.
I had pre-scouted some potential courses prior to heading off, but waited until I was actually there to make final selections. Partly to do with driving distances and times and partly to do with seeing if there were local discounts to be had. I've found during my travels that it quite often pays off to wait until the last minute to book something, especially if there are a number of options available.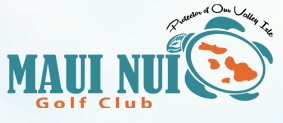 Anyway, my target budget was to find a course with green fees and rental clubs under $100 U.S. So on Maui I had scoped out a few courses and found one about 1/2 hour away from our condo. Maui Nui is located in the town of Kihei, on the south western coast. It is billed as a great value golf course, voted America's Best Value by golfadvisor.com. And in fact, it is a pretty decent value based on the friendliness of staff, quality of course and the great vistas of mountains and ocean. And being in Hawaii, of course! I'm not certain I'd rank it as my best value, but still pretty darn good. With rental clubs and a couple of small souvenirs, The cost was around $80 total, just slightly over $100 CDN.
I had a perfect sunny day for my round. I had a 12:20 tee off and while the temperature was 88 F, there was a nice breeze blowing so it didn't feel hot. Surprisingly, the course was not overly crowded and I was able to play the round by myself, which I appreciated. Knowing I would want to take some pictures and simply enjoy the venue, it was nice not having to worry about slowing down anyone I would have been paired with.
It took me the front nine to get used to the clubs. It was the first time I'd played a full round with graphite shafts, so I found myself pulling a number of shots for the first five holes, going bogey, double, double, double, triple and then strung together three pars in a row. At the end of the day, with a very strong back nine of 40, I was extremely satisfied with a sub 90 score of 88.
The front nine of the course has great views of the mountain (Haleakala) and for the most part runs parallel to the Pillani Hawaii, which takes you south through Kihei to the popular area of Wailea. It's a fairly tight layout with a number of holes in opposite directions beside each other, but aside from #'s 1 and 9, the rest have good separation by growths of trees.
The back nine of the course weaves its way through a relatively new housing development, with 6 of the 9 holes totally separate from one another. And from pretty well anywhere on the middle 5 holes on the back as well as the 18th tee, you are extended great views of Maalaea Bay and beyond. At the 17th and 18th holes, you find yourself adjacent to an industrial development. In fact the 18th tee backs up to an complex with mirrored windows. A couple of days later, I would find out that behind those windows is actually a restaurant that overlooks the 18th tee. Maria and I had heard about a restaurant called Cow Pig Bun that served great burgers so when we sought it out, I knew it was close to the golf course but I had no idea where we were until the waitress sat us down next to one of the windows, and I recognized the view beyond the tee blocks right away.
So that was my Maui golf experience. I managed to meet my budget target, had fantastic weather and a pretty decent round of golf, especially considering that was only my fourth round of the entire year. If we ever go back to Maui, I will give Maui Nui another go!