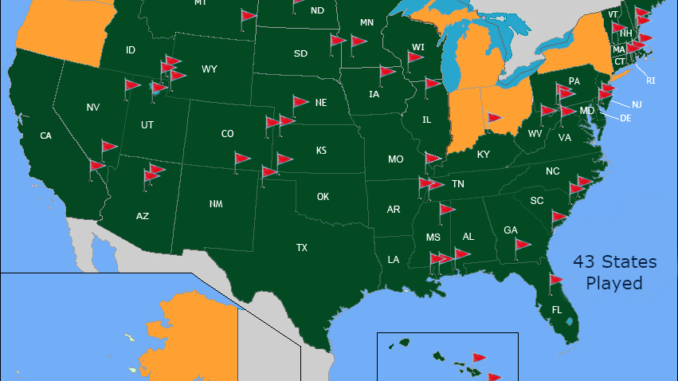 O.K. So the end of February of the 5th year came and went and I ended up short of reaching my self-imposed target of completing my 50 state quest in 5 years (60 months). I began in February of 2012 and try as I might, I didn't quite make it.  I've made to 43 so far.
I also realize I've been very remiss about providing updates. Well the reality is that I haven't done a whole heck of a lot since the Big Road Trip in the fall of 2015. In fact, I only added one additional state to my played list during 2016 and up to the end of February of this year. Mind you, it was a tough one to get out of the way; Hawaii!
To explain a bit further, during the summer of 2015 I was offered a job as a consultant, working in Virginia. The job started in late fall, shortly after returning from the Big Road Trip to Arizona. Long story short, I took a leave of absence from my current job and moved down to Virginia, while Maria remained here. It was a long 5 months apart, but I moved back in March of 2016 and returned to my previous position. The downside, strictly from a golf quest perspective; I didn't have any vacation time left. So in a nutshell, that is the main reason I didn't do any trips during 2016, other than going to Hawaii with Maria and the kids in the fall.
So I'm down to 7 states left. I will absolutely finish off New York, Ohio, Indiana and Michigan sometime this year. I'm hoping to accomplish that before the end of June. As for Oregon, Washington and Alaska, it is not so much the time to do it, it is the finances. Yep, I'm still paying off the family trip to Hawaii last fall, so we'll have to wait and see on that trip. At the very worst, I will absolutely commit to playing those three in 2018, if I don't get them done this summer.
So that's where it stands right now. But one thing is certain, I am committed to blogging a bit more frequently this year!